Nokia Lumia 800 Confirmed for Bizarre Launch in U.S.
Since CES 2012, we've known that the Nokia Lumia 800 Windows Phone would be coming to the United States only it wouldn't be arriving on any carriers. Instead, the Lumia 800 will be available on unlocked. What we didn't know was when it would be arriving and for how much. Microsoft and Nokia have revealed those details today and they are a bit, well, bizarre is the best term we could come up with.
Turns out, the Lumia 800 is going to be arriving on Valentine's Day, that's February 14th for those that don't know, and it's going to be arriving in a bundle with a couple of accessories.
They include the Nokia Play 360 Wireless Speaker, a Purity HD Stereo Headset, and a Bluetooth headset.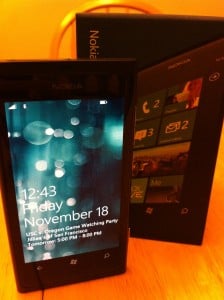 Not bad, right?
Wrong.
Microsoft Stores will be asking for $900 for the entire bundle, expensive even with an unlocked phone on board, and it only gets worse from there.
Apparently, this will be the only way that customers in the United States will be able to get the Lumia 800 on launch day. The companies involved have confirmed to Gizmodo that this is the only way that it will be offered for the time being.
So, if you wanted to get your hands on a Nokia 800, you're going to have to shell out close to a grand. Yeah, you might want to start re-thinking those plans people.
The only way to describe this is bizarre and that's because of how much different this is from the rhetoric that Nokia trotted out at CES. There, the Finnish manufacturer stated that it would be attacking the U.S. market with affordable prices.
$899?
Really?
Affordable?
The Nokia 710 is currently free at some retailers. The Lumia 900, with LTE, is rumored to be $100. Why on earth would anyone shell out this kind of money for an unlocked phone that might be tied to AT&T only?
In any event, if you happen to be sitting on a solid gold computer chair inside of a vault full of cash, the phone you see in the video below is going to be hitting Microsoft stores next week.
You can read our full Nokia Lumia 800 review here.

As an Amazon Associate I earn from qualifying purchases.