Nokia Lumia 900 (Ace) on AT&T in March, Lumia 710 on Verizon in April?
Following on rumors of LTE-capable HTC Radiant and Samsung Mandel models running Windows Phone in 2012, we're also now hearing about Nokia's LTE plans with its Nokia Ace smartphone, a device that may be released as the high-end Nokia Lumia 900 in the U.S.
According to Paul Thurrot, official LTE plans may be unveiled at the Consumer Electronics Show in January 2012. Additionally, the Nokia Ace is said to be making its way to AT&T by March 18, 2012.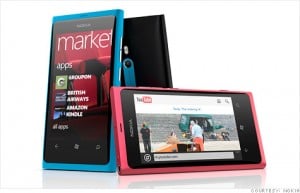 As for the Samsung Mandel and the HTC Radiant? Those devices are pegged for mid-year 2012 release.
Interestingly, though, is the fact that all three high-end LTE smartphones are bound for U.S. carrier AT&T, which is currently trailing rival carrier Verizon Wireless in its 4G LTE deployment. Though Microsoft and AT&T have enjoyed a strong relationship since introduction of Windows Phone 7, it was actually Verizon Wireless that is pushing for OS support of 4G LTE.
And speaking of Verizon Wireless, that carrier will follow GSM rival T-Mobile USA in landing the Nokia Lumia 710, which at this time is the entry-level Windows Phone smartphone from Nokia. The device will be hitting Verizon in April 2012, or roughly 3 months after it arrives on T-Mobile.

As an Amazon Associate I earn from qualifying purchases.