Nokia Lumia 900 Pre-Orders Begin Again
For those that are interested in picking up AT&T's latest Windows Phone, the 4G LTE powered Nokia Lumia 900, the device has gone back up for pre-order today at Microsoft Retail Stores around the United States ahead of its highly anticipated launch on April 8th. Microsoft Stores had originally had the device up for pre-order back in February, but abruptly pulled the pre-order offer after only a week.
This pre-order is the same as the last one.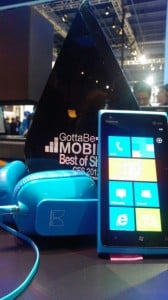 Shoppers can go in to a Microsoft Store and plop down $25 which will ensure possession of a Nokia Lumia 900 when it launches next month. The device itself is going to cost a mere $99.99 on-contract when it arrives, a small price to pay for one of the mos intriguing phones of the year.
The device is going to be launching April 8th online and will be on sale in-stores the next day on Monday, April 9th.
We fully expect the Lumia 900 to make a significant splash in not only the world of Windows Phone but the smartphone world as well. It's a device that we gave our Best in Show award for CES and it's a device that we enjoyed immensely when we went hands-on.
You can check it out in the video below:
In addition, that price point is something that is going to attract customers outside of the Windows Phone fan base. The Lumia 900 is a high-end phone and it's not often high-end phones launch with a reasonable price tag.
Nice to see Nokia keeps its promise to aggressively price its Lumia devices here in the U.S., even if it managed to bungle the launch of the Lumia 800.
The Lumia is going to be launching in both black and cyan colors with a white version arriving later on in April.
Via: The Verge

This article may contain affiliate links. Click here for more details.