Nokia Lumia 900 Reportedly Costs Nokia $217 to Make
The Nokia Lumia 900 (as reviewed) Windows Phone 7 device for AT&T's 4G LTE network costs $100 with a two-year contract or $450 to consumers who do not want to sign any service agreement with the carrier. Given these prices, AT&T can still net a healthy profit from the Lumia 900 despite working with Nokia to offer an aggressive $100 price on contract for a high-end 4G LTE smartphone (the HTC Titan II costs double on contract) as the device has been revealed to cost Nokia only $217 to manufacture as reported by Electronista.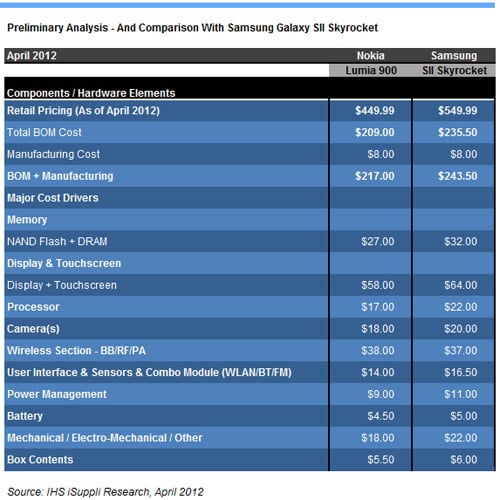 According to iSupply's teardown of the phone and the bill of material, costs for supply and parts totaled $209 while the phone costs an additional $8 to manufacture. These costs do not include any cost for shipping and transportation of the device as well as any marketing cost.
iSupply's analysis reveals that the cost of the Nokia Lumia 900 is higher than that of the Apple iPhone 4S, suggesting that costs for 4G LTE radios as well as a larger 4.3-inch AMOLED display are higher than materials for the iPhone 4S. Additionally, Nokia is using a wide-angle Carl Zeiss lens on the Lumia 900's 8-megapixel camera.
Marketing costs for the Lumia 900 could total as much as $150 million, a figure that's said to be higher than what was spent on any iPhone marketing campaign. Nokia and Microsoft threw a huge launch event in New York City to launch the device with a free concert for those in attendance. Those costs could help Nokia to rebuild its brand and name reputation in the U.S. where the company has had weaker sales with prior devices running on the Symbian OS.

This article may contain affiliate links. Click here for more details.