Nokia Lumia 920 Accessories Focus on Wireless Charging & Music
Today Nokia announced its new flagship smartphone, the Lumia 920, but no flagship announcement is complete without accessories, and Nokia has a few interesting ones.
During its launch announcement Nokia focused on accessories that highlight the feature of the smartphone's features. While other companies will announce covers or cases for new smartphones, Nokia focused an accessories that take advantage of wireless charging or NFC in the phone.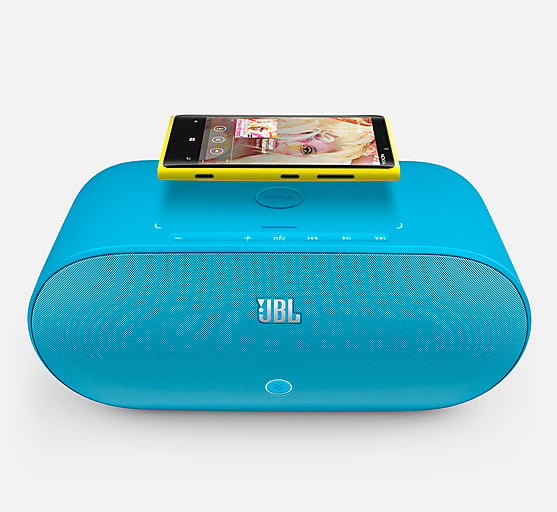 The most interesting new accessory is the JBL Power Up wireless speaker. The JBL Power Up comes in a variety of colors to match Nokia's Lumia 920 and Nokia Lumia 820. To play music on the Power Up users simply need to tap their Lumia phone to the device. The NFC in both devices will pair them via Bluetooth which will let the Power Up play music from the Lumia device.
https://www.youtube.com/watch?feature=player_detailpage&v=HqpOIHm4VBI
The Power Up also takes advantage of the wireless charging of the Lumia 920 and 820. Placing the phone on top of the device will charge it while the music plays.
https://www.youtube.com/watch?feature=player_detailpage&v=_lBPL7mGO3g
Nokia also partnered with Fatboy for wireless charging. Perhaps the funniest accessory for the Lumia 920 is the Nokia Wireless Charging Pillow by Fatboy. The accessory is simply a pillow made to match the colors of the Lumia 920 with a wireless charging dock inside. It's just a softer surface to place the phone on while it charges.
Nokia also continues its partnership with Monster for the Lumia 920. The company didn't spend much time talking about the partnership, but did show images of new Purity Pro headphones in yellow, red, white, and black to match the Lumia 920.
We don't know much about the new headphones, but if they're anything like previous Monster Purity headphones they will likely be surprisingly good headphones that are hard to find in stores.
https://www.youtube.com/watch?feature=player_detailpage&v=Xz9uFEhPgAU

As an Amazon Associate I earn from qualifying purchases.