Nokia Lumia 920: Windows Phone 8, Dual-Core CPU, Wireless Charging, and PureView Tech
The latest leak of Nokia's flagship Lumia 920 for the Windows Phone 8 platform confirms that the smartphone will feature a lot of impressive technologies. Retaining the same pillowcase form factor design of the preceding Lumia 900 and Lumia 800 smartphone that won Nokia a number of design awards, the Lumia 920 will also pack a lot of new technologies inside the glossy polycarbonate unibody case.
Many of the features of the phones were reported before, but now a source to The Verge who is familiar with Nokia's plans have confirmed the specs for the flagship Nokia Lumia smartphone.
Nokia is expected to make its announcement on the Lumia 920 on September 5.
Wireless Charging
The Lumia 920 will support wireless charging. We had reported of a leaked wireless charging pad accessory that plugs into an outlet or USB plug and users can then rest their Lumia 920 smartphone on top of the wireless charging pad to charge. There is no need to plug in a cable into the Lumia 920 to charge the phone. Best of all, according to The Verge, the Lumia 920 will be Qi-compliant, meaning that it would work with other Qi-certified charging pads as well.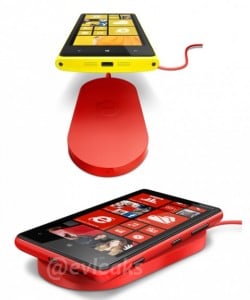 New Hardware, More Power
And despite retaining the same form factor design, internally the Lumia 920 is a huge step forward for Windows Phone 8 that would make the platform, on paper, look competitive with rival hardware from Android, including the support for HD displays and multi-core CPUs. The Lumia 920 will have support for a 1.5 GHz dual-core prcoessor, 1 GB RAM, and 32 GB of internal storage, up from the 16 GB that was present on the Lumia 900. Additionally, the phone will have a larger 4.5-inch HD display.
PureView Imaging
Nokia will be marketing the 8-megapixel camera as part of the PureView series. The company had earlier this year at the Mobile World Congress trade show debuted the Symbian-powered 41-megapixel Nokia 808 PureView smartphone to a lot of positive press. Using the same camera technology, but unfortunately not the same 41-megapixel camera sensor, the Nokia Lumia 920 will support an 8-megapixel camera and come with additional imaging enhancements, such as image stabilization and enhanced camera software.

As an Amazon Associate I earn from qualifying purchases.