Nokia Lumia 920 With PureView And Nokia Lumia 820 Photos Leak
Next week Nokia will announce its first smartphones running Windows Phone 8, but images and some details of the high-end and mid-range phones are already online.
Twitter account @evleaks leaked photos of both the upcoming Nokia Lumia 820 and Nokia Lumia 920 with PureView. The two phones are the Nokia Arrow and Phi, respectively. We don't have too much information beyond the names, but it looks like screen size and PureView are the features that separate the mid-range from the high-end phone.
The Nokia Lumia 920 has a 4.5-inch screen, which we assume will have a 720p or 1280×768 resolution (the two highest resolutions Windows Phone 8 supports). The phone keeps the same design as the Lumia 900 and Lumia 800, and the curved screen of the Lumia 800. The image shows the phone in yellow, red, and gray. We hope the cyan of the Lumia 900 is still an option when the phone launches.
The tweet says the phone has PureView technology, though the camera on it doesn't look nearly as large as the one on the 808 PureView. If it does have PureView, we assume that means it has the over-sampling technology in a smaller MP sensor. After all, who really needs a 41MP sensor in a smartphone if it adds so much thickness?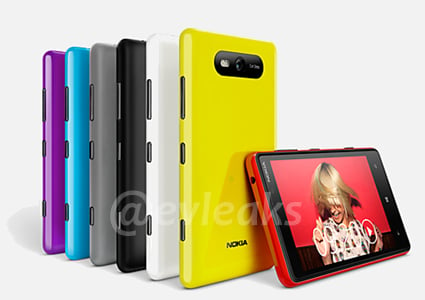 The Nokia Lumia 820 is a 4.3-inch mid-range smartphone. It held the codename Arrow, and unfortunately we don't know much about it. It looks like the phone has a brand new design that reminds us of a rounded iPhone case for some reason. A version of the Arrow phone, called the Ace, is rumored to launch on Verizon at some point, but we don't know if that model will look the same.
The words "Carl Zeiss" are next to the camera lens, but we don't know how anything else about the camera. The most we know is that Nokia plans on launching the Lumia 820 in a multitude of colors. We hope the purple, cyan, yellow, and red models make it to the U.S. market.

As an Amazon Associate I earn from qualifying purchases.