Nokia Lumia 929 Sold Ahead of Release
Nokia hasn't shared a single detail about the Lumia 929, however that hasn't stopped one enterprising user from actually purchasing the handset in Mexico.
News of the early handset sale surfaced this morning after the user who made the successful purchase sent pictures of the device and its software to Phone Arena.
These pictures don't reveal anything that hadn't already leaked since rumors of the Lumia 929 began circulating. According to the carrier branding on the device and its About screen, the Lumia 929 is a destined to fill the gap in Verizon's high-end smartphone range.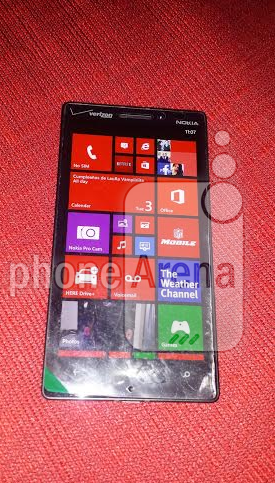 Screenshots and pictures of the device's Start Screen also confirm that the Lumia 929 will have an over-sized screen. Microsoft recently added support for large displays to Windows Phone with Windows Phone 8 Update 3. Though the entire user interface remains the same, users with devices that have display that measures more than 4.5-inches have access to another a row of Live Tiles. That extra row of Live Tiles is clearly visible in a few of the pictures shared today. This all corroborates rumors of the Lumia 929 having a 5-inch display.
Thankfully, users of the Nokia Lumia 928 can look forward to a pretty decent camera upgrade. The Lumia 929 in these photos sports a 20 megapixel camera that features Nokia's PureView imaging technology and support for the same enhanced camera applications that made the Lumia 1020 such a great camera phone. That suite of camera related apps includes Nokia Pro Cam. There's also a front-facing camera for video chatting.
Of course, Here Drive+, Nokia Music and access to Nokia's exclusive stable of third-party Windows Phone apps are included with the device as well. The device also features support for Verizon's 4G LTE data network.
Read: Nokia Lumia 929 Fully Detailed in New Leaks
Thanks to this leak and others in the past, there are only a few things we don't yet know about the Lumia 929. For starters, Nokia hasn't even acknowledged the device exists. As such there's no word on pricing or availability. To be fair, accessories for the device already show a December 20th shipping date on Amazon.
Color options for the device also remain elusive. Typically, Nokia  only makes white and black versions of its Verizon-compatible handsets available to users.

As an Amazon Associate I earn from qualifying purchases.