Nokia N8 to Get Special Build of Symbian Anna Update to Enable 30 FPS, Continuous Auto-Focus Video
Having already built a reputation for being the best camera phone on the market today, the Nokia N8 will get even better with a special firmware update that's expected to be part of the Symbian^3 Anna release. Nokia's Damien Dinning, who's responsible for the N Series' awesome shooters, commented on Twitter that "There will be an N8 specific update coming which will. You need the code from Anna though."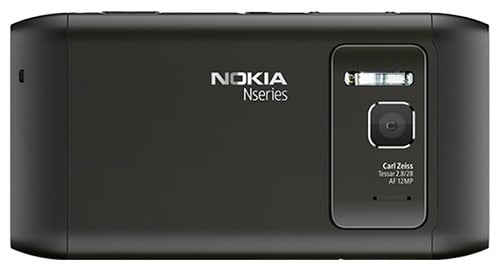 The software update will bring a number of new improvements to the video capture capabilities of the N8. Currently, the device sports a 12-megapixel rear-facing camera, dual Xenon flash, and the ability to record 720p HD video. With the update, the Nokia N8 will get a bump in frame rates, giving it the ability to record HD video at 30 frames per second for smoother videos. Another big bonus will be the camera's ability to do continuous auto-focus, which will help ensure your videos will always be in focus even as the subject moves closer or futher away from the camera.
Perhaps these camera improvements is the cause of the delay behind the Symbian Anna update for the Nokia N8, though it doesn't explain why Anna still hasn't hit the Nokia E7 or C6 yet, which sports an extended depth of focus camera that's different than that found on the Nokia N8. Regardless, Dinning's early response may help to appease some of the community backlash that occurred when Nokia N8 and E7 early adopters realized that their update may not be coming for a while despite the fact that newer handsets like the X7 and E6 are already shipping with Anna pre-loaded.
In the past, there were numerous video leaks of early builds of Anna, and also the newer forthcoming Symbian Belle, software update on Nokia N8 and E7 hardware.
According to Dinning, in a comment over at My Nokia Blog, a specific date is not promised right now for Anna nor for the camera features:
Hi all,

Just want to say, reading your comments, thanks.

As soon as this update is available I'll be posting full details and background behind why we're implementing some things the way we are so you can get the most out of the changes/improvements we're bringing.

It wouldn't be appropriate for me to promise any specific date at this time, but would like to assure you that we want you to have this update as quickly as we can get it to you. Your continued patience is appreciated.

atb
If you're curious as to the differences between the current shipping version of Symbian^3 and Symbian Anna on the Nokia N8, My Nokia Blog also re-ported a video from Axel of blog-n8.fr in French detailing the differences between the two operating systems in a 33-minute segment: