Nokia N9 Gets Ice Cream Sandwich Dual-Boot
The Nokia N9, Nokia's first and last MeeGo smartphone, is now a lot more appealing thanks to the work done by Nitdroid. Thanks to the Nitdroid team, there's now a working Alpha build of the Nokia N9 dual-booting MeeGo and Android 4.0.3 Ice Cream Sandwich.
The Alpha build of Ice Cream Sandwich on the N9 obviously isn't perfect, but it does work surprisingly well. The team managed to get multitouch, GSM/3G radios, 3D drivers, and OpenGL to run on the Android side of the phone. Even the volume and power buttons work (we assume the ICS build doesn't have the triple-tap-to-wake feature that MeeGo does).
From the video of the build, it seems to work reliably as well.
There is still a list of features that don't work well, though. The battery icon doesn't change when charged, for example, so it's impossible to tell when the phone is about to die or when it's fully charged. It's also impossible to get to the file system without some sort of hack.
You can forget about video playback in this build. Video does work, but is fairly choppy. The audio will work, though, so if you don't mind choppy video you can listen to it through the speaker, headphones, or Bluetooth.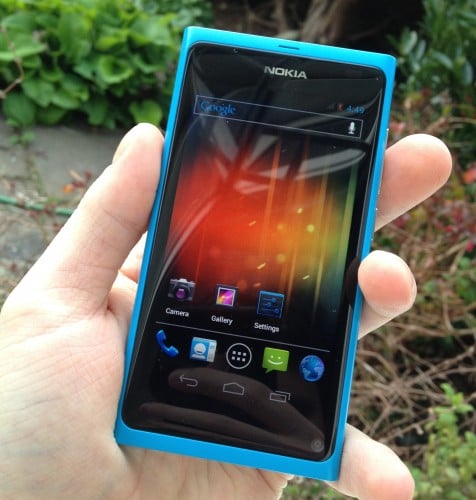 Switching between the two platforms is simple, just hold the volume up button while the phone is booting. You'll still have MeeGo available in case Android is too buggy.
If you have a Nokia N9 and want to put ICS on it, there is a walk-through available.
It won't run perfectly on the phone, but you'll be the envy of many tech geeks.
Via: SlashGear