Nokia N9 Launching in 49 Days?
Two days ago, we learned that September 15th was a possible launch date for Nokia's MeeGo-powered N9 smartphone and sure enough, Nokia has all but confirmed that date by introducing a fancy little counter on the official N9 website that is counting down to what is presumably a launch date.
As I write this, sits at 49 days, 20 hours, 49 minutes and 30 seconds. If this does in fact point to a September launch date, the ninth month of the year is shaping up to be an absolute gem as far as smartphone launches are concerned.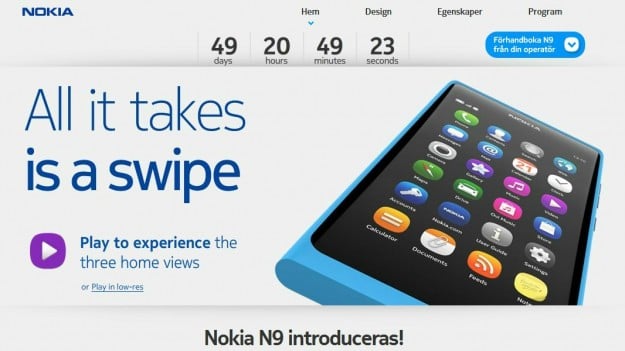 Not only do we have an anticipated launch of the a new iPhone, but we'll likely also see the U.S. release of at least Sprint's Samsung Galaxy S II as well as Verizon's Motorola Droid Bionic. Just to name a few.
Unfortunately, Nokia's website reveals absolutely nothing in regards to pricing or what carriers this sleek-looking device will be headed to be you can be sure that all will be revealed at some point at the beginning of September presuming Nokia is going to offer a pre-order for the N9.
Via: Engadget

As an Amazon Associate I earn from qualifying purchases.