Nokia N9 Surfaces Ahead of Official Announcement (Photos)
It's assumed that Nokia's MeeGo powered N9 will be announced tomorrow at CommunicAsia 2011 and ahead of that launch, it has surfaced in both some press shots and a couple of leaked images showing off its touchscreen design.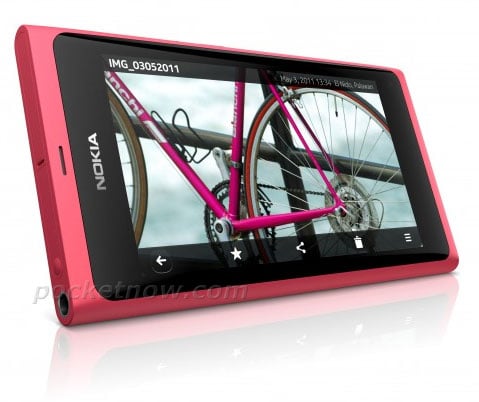 It looks like the N9 will be a slim, touchscreen-only device which will be powered by MeeGo Harmattan and will sport a  qHD display with 960 x 540 screen resolution an 8MP camera. and a form factor that is said to be only a bit thicker than the iPhone 4's. It also looks like it's going to come in a variety of colors as these press images reveal black, red and blue models.
As for the name, it appears that it may either be the N9 or the N9-00. The N950 name that we thought that it would arrive under apparently will go to a QWERTY device instead of the one you see here.
Nokia's candybar style device will also apparently ship to people in Europe at some point in Q3 with a release window in the United States and the rest of the world as of yet unknown.
Looking at Pocketnow's press shots and Engadget's in the wild photo, you get the sense that these devices are one in the same. It's gorgeous looking  so let's hope that this is indeed the device that Nokia announces it tomorrow.