Nokia N900 Officially More Than an Internet Tablet… Sort of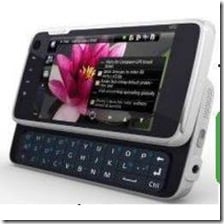 Putting an end to the rumors (and possibly prompted by the massive reveal published last week), Nokia has dropped a press release announcing their N900 that describes it as being "the next phase in the evolution of Maemo." No new info on specs (we pretty knew it all months ago), but the verbiage is telling.
The Nokia N900 has evolved from Nokia's previous generation of Internet Tablets and broadens the choice for technology enthusiasts who appreciate the ability to multitask and browse the internet like they would on their desktop computer.
That's the only mention of "Internet Tablet" in the whole release. Clearly it's born of their Internet Tablet line, which they have to admit, but they're pushing the fact it's more than that. Unfortunately, they don't really spell out what else it can do. The release mentions web browsing, messaging and photos, but in the age of digital photo sharing, that's all tied to the Internet. You can't tell us it's more than an Internet tablet, but not tell us what "more" it is.
They also note that this Maemo-based tablet is intended to complement their Symbian-based smartphones, confronting rumors that Symbian was being dumped for Maemo. And with little mention of phone functionality, it sure doesn't seem like the N900 is the successor to the N97.
It closes by mentioning the unveiling at Nokia World in September and that it will be available in select markets from October for the suggest price of around EUR 500 (presumably listing the price in Euros means those markets will be European). No surprises here, but I think they laid out the product direction in no uncertain terms.
Via Engadget by way of jkOnTheRun