Nokia Pairs NFC App to Wireless Car Charging Dock
Nokia had introduced a wireless car charging dock before, and now the company is making the dock a bit smarter thanks to built-in NFC functionality. With the wireless charging dock, users can simply attach their compatible Lumia smartphones into the car dock and not need to plug in a micro USB cable to charge. The car dock itself will connect to a power plug and to your car's cigarette lighter socket for charging, but you can leave that power card permanently attached to the dock and you don't need to fumble with any cables to attach or remove your phone. The technology is similar to the wireless charging plates and pillows Nokia had introduced alongside the Lumia 920 smartphone.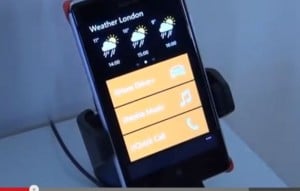 Now, the dock will have added functionality when used with an NFC-equipped Lumia. With the launch of the Lumia 925 and its metal design, Nokia is showcasing how the Lumia 925 will quickly launch an app when the NFC on the phone detects that it's being docked with the car dock. The app will give users bigger, finger-friendly touch buttons on the display for most used features while in the car, like quick dialing and navigation. There's also a quick launcher for Nokia Music, Nokia's free Pandora-competitor for the Lumia smartphone, as well as access to weather information while you're on the road. WP Central gave a demo of the dock, which is re-posted below:
The functionality isn't all too different from Car Mode that's been offered by HTC for some time now. When you dock an HTC Android phone into a compatible car dock by HTC, the phone itself will pull up a more car-friendly menu system intended to keep users safe on the road.
The nice part about the Nokia car dock is the wireless charging feature. The dock itself appears to be a universal dock with adjustable grip arms on either side that can snap to fit a Lumia 928, Lumia 925, Lumia 920, Lumia 820, or Lumia 822. This is nice as you don't have to buy separate docks that are model-specific to your phone if you change carriers or upgrade, but the dock itself isn't as elegant as a model-specific dock, like the HTC One car dock specific to that phone model.

As an Amazon Associate I earn from qualifying purchases.