Nokia Responds to Alleged 3-Inch 'Tablet' Leaks
When Nokia took the stage in New York City with carrier partner T-Mobile USA, various news outlets were reporting that Nokia was either working on a 3-inch tablet or media player. Right now, the company says that the information that was reported earlier was all a misunderstanding by various hopeful blogs. The device that was shown or leaked is not actually a tablet, media player, music player, or iPod Touch competitor. Rather, it is just a digital name tag that a Nokia U.S. head Chris Weber had worn on his neck.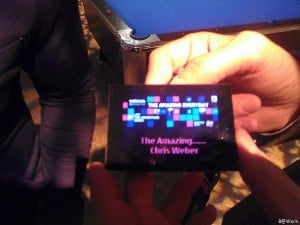 As it stands right now, Nokia does not have a tablet or media player. The company is focusing its efforts on launching the Lumia series of Windows Phone 7.
In the past, however, Nokia has not ruled out entering the tablet market and company executives say that they are evaluating the market for opportunities. For now, though, there isn't a tablet, at least not one that is shown publicly.

As an Amazon Associate I earn from qualifying purchases.