Nokia Returns To UMPC/MID Scene With N900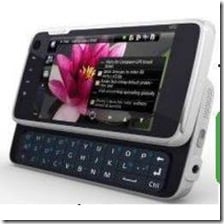 The Nokia N810 was a definite niche device with limited appeal to the masses. With only wifi connectivity, sales were sluggish and Nokia pulled the plug late last year with a last-minute, limited release of a model sporting WWAN. MobileCrunch got an inside tip revealing plans for the new N900, which combined the functionality and power of the N810 in a smaller form factor similar to the upcoming N97. Slashgear sited rumors that the N900 is coming to T-Mobile USA sometime in the summer of 2009 for $299 with contract, so I might just pick this up. The Maemo OS looks quite attractive, and with the new Ovi marketplace, Nokia is taking direct aim at the Google Android phones, Palm Pre and Apple iPhone.
Some specs of interest via MobileCrunch:
Update: A few comments inquired about GPS. Our source has since verified that the N900 does indeed have GPS, along with an accelerometer.
Dimensions: 59.7mmx111mmx18.2mm
Weight: 180g
3.5″ 800×480 (WVGA) touchscreen
OMAP3430 500/600 MHz processor (Fun Trivia: Same CPU as the Palm Pre)
Bands: GSM Quad-Band 850, 900, 1800, 1900. WCDMA 900, 1700/2100, 2100
5 megapixel Carl Zeiss camera with dual-LED flash, autofocus, and sliding cover
Though the renders we've seen show two lens-like circles near the screen, we've got no word on what's behind them. However, we feel safe in assuming that its a proximity sensor and a front-facing camera.
1GB total virtual runtime memory (256MB physical RAM, 768MB virtual memory)
Wi-Fi, HSPA
32GB internal storage, expandable up to 48GB via external memory
Keyboard variants: English, Scandinavian, French, German, South European, Italian, Russia
In the box: Connectivity cable, headset, charger, battery (1320 mAh), Video-out cable, microUSB adaptor, cleaning cloth
Via Slashgear and MobileCrunch.