Is this a Nokia Smartwatch?
Nokia is developing its own Samsung Galaxy Gear smartwatch competitor. At least, that is what some outlets are alleging after pictures of a mysterious device surfaced on a Chinese social networking site.
The two pictures in question, both of which made their way to China's Sina Weibo social network, depict a solid black device unlike anything the company sells. Although these images aren't definitive proof of anything, the physical attributes of whatever is in the pictures do lend credence to CTech's assertion that Nokia is preparing to introduce a smartwatch.
For example, the holes in the devices top and bottom, are perfectly positioned to allow potential Nokia smartwatch users to add and remove different wrist bands from the device. The back of the device in the pictures is also sharply covered, so the device can stay flush with curve of an arm.
However, beyond those two points, and the "Nokia" logo painted on the top edge of the device, there's no other supporting evidence. While Nokia prefers to keep products secret until just before they launch, usually news of flagship devices and accessories have leaked months before Nokia revealed them. To date, there has been any chatter about, or leaks of a Nokia branded smartwatch.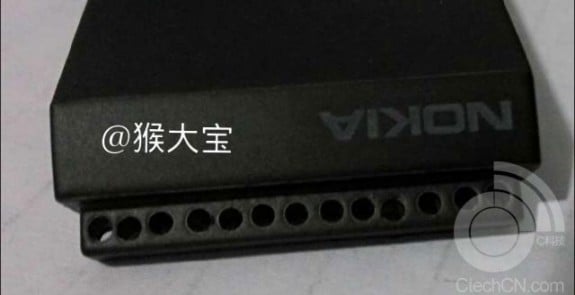 That being said, Nokia entering the wearable computing space isn't completely ridiculous. Consumer electronics companies are rushing into the market ahead of the iWatch that Apple is reportedly preparing. Many of these companies are hoping that by beating Apple into the wearable computing space, they can establish a foothold in the market and carve out a place for their products before Apple becomes synonymous with wearables like it did with music players and smartphones. Sony announced its SmartWatch2 device earlier this year, and Samsung recently entered the space with its Galaxy Gear device.
Read: Nokia Lumia 1520 Event Teased for October 22
Whatever is in the photos – and it does look like a Nokia smartwatch – a potential release date, or feature set is completely unknown. Nokia is holding a press event for October 22nd. It's believed that the company will use that event to launch its first phablet, the Nokia Lumia 1520.

This article may contain affiliate links. Click here for more details.