Nokia Sports App for Windows Phone 7
Nokia's third and final innovation for its own branded Windows Phone devices will be in the sports field. Nokia Sports will be integrated with ESPN Sports Hub and will highlight Windows Phone 7's panoramic screens to provide highlights, news, scores, and team information.
Users can pin a league or a team back to the start page on the Metro UI as a live tile. This way, users can have quick access to their sports teams.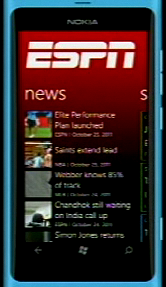 The app is free for Nokia Windows Phone 7 devices, including the Nokia Lumia 800.

As an Amazon Associate I earn from qualifying purchases.