Nokia Teases Enhanced Imaging on the Nokia Lumia 928
A new teaser site, designed to wet the appetites of potential Lumia 928 owners, has now appeared on Nokia's US website.
The site, which is available here, seems to highlight the new Lumia flagship's low-light picture taking abilities. In it, the device is shown taking pictures at a beach near dusk, however the picture we see in the viewfinder is quite a bit lighter than the actual beach seen in the background. Words and phrasing at the bottom of the picture also indicate that the focus of this Lumia flagship will be on picture taking, with a phrase reading "Capture the Highlights | Stay tuned for updates about the newest Nokia Lumia."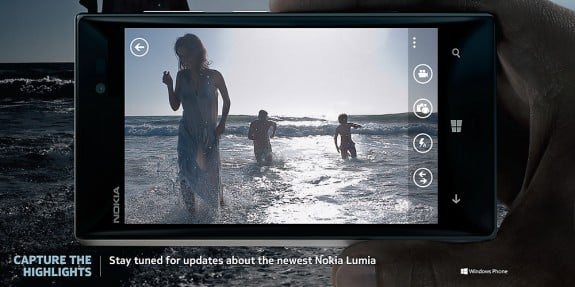 Read: Latest Leaked Nokia Lumia 928 Shows Boxy Edges for Verizon
Pictures of the Nokia Lumia 928 first leaked this past April and indicated that the device would feature Xenon flash instead of the Dual-LED flash of the Nokia Lumia 920. A Lumia device with Xenon flash would allow for crisper imaging in little to no lighting. These pictures also confirmed that the Lumia 928 will ship with Nokia's PureView imaging technology. The Lumia 920's PureView technology included Optical Image Stabilization for taking photos that require long exposure times without getting blurred shots, and a back side illuminated sensor for better low light photos.
Read: Verizon's Lumia 928 to Come in Colorful Aluminum Shell, Battle Galaxy S4
The Nokia Lumia 928 is believed to have a dual-core 1.5 Ghz Qualcomm Snapdragon processor, 2GB of RAM and a 4.5 inch display with a resolution of 1280 x768. All of Nokia's mid-range to high-end devices also ship with wireless charging, however as the Lumia 928 is expected to be the first to use a metal enclosure instead of the colored polycarbonate of the Lumia 800, Lumia 900 and the Lumia 920.
Verizon documents and screenshots obtained by Nokia-Lumia-928.com indicated that Lumia 928 would ship in white, red and black. Though Bloomberg also indicated that the device would be available on Verizon, the outlet made no mention of different color options being made available to customers.
The device is expected to be fully announced by Nokia at its upcoming press event on May 14th.