Nokia Teases New Phone, Tablet and Laptop for October 22 Event
Nokia has already announced that they'll be holding an event on October 22, but today they announced what they'll be announcing. In a new teaser photo, the company is showing off a new phone, tablet and laptop with the caption, "Watch the action on your screen of choice."
We've been hearing chatter about the alleged phablet-style smartphone and the tablet, called the Lumia 1520 and 2520, respectively, but the laptop is a bit of a curious surprise. Seeing as how Nokia hasn't released a laptop since 2009, we never would've thought the company was getting back into the game, but it looks like it's ready after a four-year hiatus.
As for the smartphone (or phablet, if you want to call it), it's rumored to be called the Lumia 1520 and will come with a 6-inch 1080p display to take on the Samsung Galaxy Note 3, as well as the rumored HTC One Max. Currently, the Galaxy Note 3 is the only one of its kind, but competitors are quickly fixing that.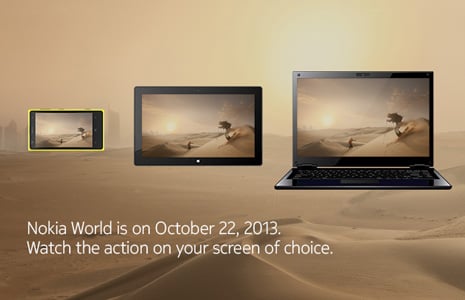 As for the tablet, we've heard rumors in the past, and even saw leaked photos and renders of the device. It's said to be running Windows RT and will come packing with a Qualcomm Snapdragon 800 processor — plenty fast enough to zip through any application.
The 1520 and 2520 will be breakthrough products for Nokia, making the 1520 the first phablet-style smartphone from the company and the tablet being the first Windows-based tablet from Nokia. Based on the photos we've seen, the 1520 will look very similar to past Lumia devices, save for the larger screen, but the overall look of the device seems to be fairly consistent with Nokia's style, and we're not surprised by that. The tablet looks the same way, but it's a little hard to tell, since we're not sure what a modern-day Nokia tablet should look like.
Previously, it was rumored that Nokia would announce these new devices late last month, but it was said that the company had to delay the unveilings.
The October 22 event is set to take place in Abu Dhabi, making it an interesting location for such an event, seeing as how Nokia usually likes to announce new products in either New York City or London. However, we certainly don't mind the change of scenery and are looking forward to what the Finnish company brings to the city in the desert.