Nokia to Experiment With New Colors for Lumia 800 in 2012
Nokia may be experimenting with new color variations for the recently released Nokia Lumia 800, the first Windows Phone fruition as a product of a joint partnership with Microsoft, for early 2012. The company had unveiled the Lumia 800 at Nokia World with black, cyan, and magenta as color options, but more bright and vivid tones may be headed to Nokia's arsenal soon.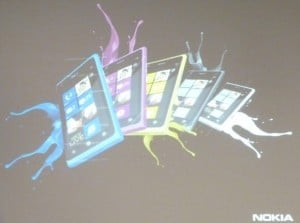 At a recent event in France, Nokia had shown off a presentation slide with renderings for the Lumia 800 in unannounced hues of white and yellow. White seems to be a natural option as a lot of smartphone-makers are releasing white as an alternative to standard black following Apple's iconic white iPod. Yellow would definitely be a bright color splash for the Lumia 800.
The beautiful and practical thing about the Lumia 800's color is that it won't be just painted on and be skin-deep like most other phones. Instead, Nokia says that the color is deeply mixed in with the polycarbonate shell, meaning that no matter how deeply you scratch the surface, you'll always see the color that your phone shipped with as the color runs throughout the plastic, not just on the top surface layer.
It's unclear what color options make it to final production, but French blog Mon Windows Phone says that new options will arrive early 2012.
The Lumia 800 has been rumored to arrive in the U.S. in early 2012 on  U.S. carrier AT&T. Additionally, a flagship Lumia 900 has also been rumored. In the U.S. market, T-Mobile USA is carrying the more entry-level Lumia 710.
Via: Unwired View

As an Amazon Associate I earn from qualifying purchases.