Nokia to Release Camera Grip with EOS to Appeal to Photographers
To prove itself to serious mobile photographers, Nokia may release a camera grip accessory to its highly anticipated Nokia EOS, which may launch as the Lumia 1020 come July 11. The PureView-equipped phone will have a large and high resolution 41-megapixel imaging sensor and optics by ZEISS, the new branding of the historic Carl Zeiss lens that Nokia had used for some time now on its camera-centric mobile phones.
The camera grip accessory recently passed through the FCC for U.S. regulatory approval. According to WP Dang, the accessory will improve the ergonomics and handling of the Nokia EOS and will come with its own shutter button. Additionally, the accessory will also make the rear of the camera, the side where the protruding camera hump is located, flush with the rest of the body.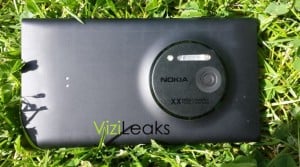 Improved camera handling is important as it would help a user hold the camera to avoid camera shake. This would be vital in recording video and taking pictures, especially with a zoom.
Given the 41 megapixels, the important functionality here is the ability to zoom into a scene without a perceived loss to resolution. If you zoomed in with an 8-megapixel camera on the iPhone, your resulting zoomed in image could be around 2 megapixels. With a 41-megapixel sensor, even with digital zoom applied, you'd still have a decent 5- or 8-megapixel image at the end. And with zoom, users will need to have more steady hands, which can be aided with the camera grip.
In the photography world, a camera grip is a photography tool that makes the camera more balanced and could allow the photographer to hold the camera for longer periods of time without suffering from fatigue. Grips in the DSLR space could also come with additional buttons for quick access to important camera and exposure controls, house an additional battery so users won't run out of juice as quickly, or add more functionality like WiFi or GPS to augment the camera. It's unclear if Nokia will be adding extended features such as those to its camera accessory for the smartphone.
The Nokia EOS is anticipated to debut on U.S. wireless carrier AT&T under the consumer Lumia 1020 branding. The device will likely compete in the same space as the Samsung Galaxy S4 Zoom.

This article may contain affiliate links. Click here for more details.