Nokia to Release Windows 8 Tablet by Mid-2012?
Nokia France is spilling the beans on Nokia's tablet ambition. While the company has admitted that Microsoft's forthcoming touch-enabled desktop operating system offers potential, the smartphone-maker has only stated that it is examining the tablet market closely. Now, it seems that the head of Nokia France has let it slip that Nokia is eyeing a Nokia-branded Windows 8 tablet after venturing with Microsoft with Windows Phone 7 in the smartphone space.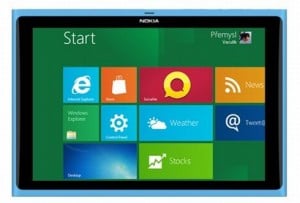 The Windows 8 tablet is expected to arrive in June 2012.
Nokia is one of few smartphone-maker without a tablet offering. Before the announced Microsoft partnership, it was widely anticipated that Nokia may release a tablet based on the MeeGo operating system, but Nokia had abandoned MeeGo earlier this year in the hopes that its efforts on Windows Phone would pay off.
As a smartphone-maker, Nokia is no stranger to Windows. The company had released a netbook with Windows before.
Via: WMPU

As an Amazon Associate I earn from qualifying purchases.