Nokia Windows Phone Speculated to Not Arrive in U.S. Until 2012
While the world may be looking on with anticipation to see the metamorphosis of Nokia from a Symbian handset-maker to a Windows Phone partner this Wednesday at Nokia World, the first phones running Microsoft's new Mango software update won't be available in the U.S. market until 2012 according to the latest speculation. Nokia is expected to announce a number of new Windows Phone 7 Mango devices for its portfolio come this Wednesday in London, including the leaked Sea Ray, which may be branded as the Nokia Lumia 800, but those devices may not arrive Stateside.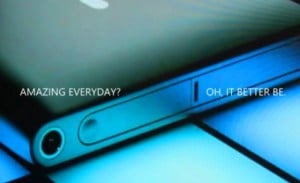 The theme for Nokia's ad campaign is believed to be 'Amazing Everyday,' highlighting that "hidden away in the everyday landscape are billions of little adventures".
The speculation behind 2012 for the date of device launches in the U.S. comes just after Nokia had unveiled an advertising push in the UK, teasing its forthcoming phone release.
In the U.S., however, Nokia is still shopping around for an advertising agency to launch a campaign, and most likely a launch won't happen ahead of a full ad campaign.
Most significant is that in the past, Nokia has stated that it is changing its distribution strategy for the U.S. market. In the past, Nokia's smartphones were available for purchase unlocked and contract-free, but with Windows Phone 7, Nokia says that it will be working with carriers and will launch phones specifically with carriers.
Previous to this, we've also heard chatter that a Nokia Ace smartphone will be headed to AT&T in 2012.
Via: Neowin

As an Amazon Associate I earn from qualifying purchases.