Nokia Windows Phone Will Apparently "Blow Your Socks Off"
We know that Nokia's first Windows Phone 7 handset will be running Microsoft's Windows Phone 7.5 Mango software. That's for sure. And while we still have no idea what kind of device Nokia is cooking up for Windows Phone 7, at least one person is saying that it's going to "blow our socks off."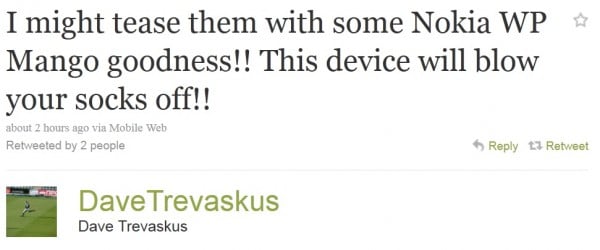 According to Twitter and MyNokiaBlog, that statement you see there was made by one Dave Trevaskus who apparently is a Senior Training Consultant for Nokia. If true, his opinion is probably a little bit bias but it's still got us here at GBM extremely excited about what's to come. We know that Nokia can build beautiful phones with fantastic cameras and combining that with Windows Phone 7.5 Mango sounds like a match made in heaven.
Let's just hope that something leaks out so we can decide whether or not we agree with Dave.
Microsoft has announced that the Mango update will arrive at some point this fall so it's very possible that we could see something from Nokia around that time, just in time for the holidays.
Who else is excited?
Via: Pocketnow