Nokia Wireless Charging Plate DT-903 Review
It's amazing that so much about wireless has changed. Displays have gotten bigger, with resolutions so good you might prefer to watch your favorite movies on your Windows Phone instead of your Xbox One. Data has gotten faster, even speakers have gotten clearer. One thing that hasn't changed is charging. Depending on which device you have, charging your smartphone is just as big of a pain as it was with old school smartphones. $59.99 The Nokia Wireless Charging Plate DT-903 hopes to change that.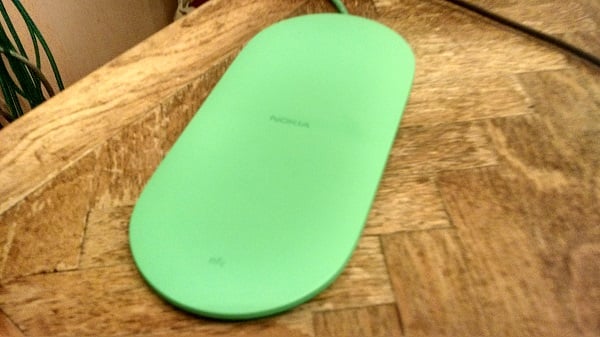 The Nokia Wireless Charging Plate aims to do exactly what its name suggests. Nokia – now Microsoft Mobile – is hoping that you're fed up fiddling with microUSB cables. That hasn't changed, this device's predecessor the DT-901 Wireless Charging Pillow and the DT-900 Wireless Charging Plate both aimed to do the same thing. Instead of adding a bit of fluff to it, Nokia is hoping that the convenience of wireless charging, good design and notifications will have users adopting their wireless chargers in droves.
Nokia Wireless Charging Plate DT-903 Review – Design
The improvements users can expect in the Nokia Wireless Charging Plate DT-903 start with it's design. Seriously, it's a slick piece of hardware. Nokia has always understood how design relates to technology. If a wireless charging pad looks better, it's more likely that you'll spot it on a store shelf. You're also more likely to put it on a table or desk where you can see it.
Bright, pastel colors are part of the attraction here. The body of the Nokia Wireless Charging Plate DT-903 looks like an elongated circle with a tail. That tail is the regular size USB cable that's built into it. The top of the Charging Plate gently slopes, giving it soft edges and a more natural look than it's predecessors. The Wireless Charging Plate DT-903 comes in orange, green and white.
Microsoft Mobile wants you to put this on a desk in a prominent place because only through doing so can you take advantage of the extra features it has. There are tons of other induction chargers, but the Nokia Wireless Charging Plate DT-903 changes the game with built-in notifications. The bottom of the device is lined with a row of LEDs. These LEDs match the color of the plastic it's made out of.
The Nokia Wireless Charging Plate DT-903 is gorgeous and fits into any decor – provided you go with the white.
Nokia Wireless Charging Plate DT-903 Review – Functionality
How good the Nokia Wireless Charging Plate DT-903 looks matters, but looks aren't everything. I can't believe I'm saying this but, the Wireless Charging Plate is best described as a "smart charger."
It's rim light isn't there just for good looks when it's charging a device. It knows things. Nokia and Microsoft smartphones with built-in NFC and wireless charging are compatible with the device right out of the box. Tapping the top of the device with an NFC equipped Lumia lets the two communicate seamlessly over Bluetooth.
Say for example, your Lumia 830, which is what I tested the Wireless Charging Plate DT-903 with, is about to die. The Charging Plate itself will glow. It's a subtle, but visible reminder that you need to charge your device. Deep diving into the Devices Hub in a compatible Lumia itself lets you assign notifications for other things. App alerts from things like Facebook are possible, and by default calls and messages cause the Wireless Charging Plate DT-903 to flash. The key here is that Nokia thought long and hard about the details. For example, each type of alert has it's own custom flash. In theory, you shouldn't be mixing up a call and Facebook status update. Nokia's software also allows for a Night Mode to put an end to the flashing lights at a pre-scheduled time. This is also an interesting bit of foresight, one of the biggest complaints I've had with chargers in the past is their incredibly annoying on lights in the dark.
Read: Lumia 830 Review
Nokia Wireless Charging Plate DT-903 — Experience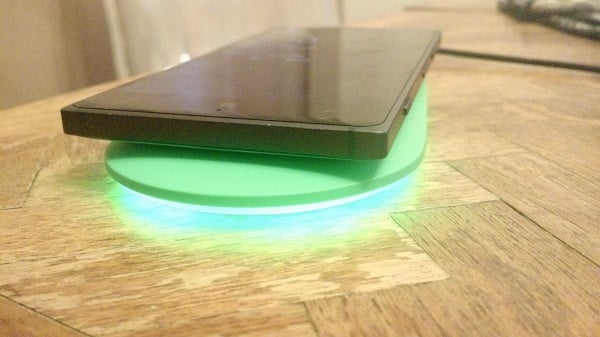 You might not think that something as basic as a Wireless Charging Plate with built-in Bluetooth would make a huge difference in your daily routine, but it does. I ended each night by throwing the Lumia 830 on the wireless charging plate and going about my business. That's alone was impressive. The Moto X 2014 I usually carry always manages to frustrate when trying to charge thanks to its flipped USB plug.
Modern smartphones are portable computing monsters who always need to be charged. I routinely forget to charge my smartphones. The bright reminder that I had to charge my device meant that I didn't end up with a dead battery once. Even better, I rarely missed a call even though the Lumia 830 was in silent mode for 10 hours every day. Paring with the NFC chip was seamless and it was fun deciding which apps should be allowed to trigger notifications.
Of course, there are some trade offs and with wireless charging it always comes down to charge times. Charging the Lumia 830 from 5% to 15% took about an hour. Getting a full charge takes all night if you're going from nearly zero. That's wasn't a problem for me, but will be a problem for some.
Nokia Wireless Charging Plate DT-903 — Conclusion
Is the Nokia Wireless Charging Plate DT-903 a good buy? At $59.99 I'd say I'd pay for it. It's definitely a natural accessory for anyone who has or plans to purchase a Lumia Windows Phone. Just be sure to check whether your device is eligible. Every Lumia Windows Phone has Bluetooth, some don't yet have the necessary software update. Some also require that you purchase a cover for your device. It's also worth noting that Nokia doesn't include a wall-charger with the Charging Plate itself. The company is hoping that you'll reuse the one you already have.