Nokia Lumia Handsets to Get Windows Phone 8 Apollo?
There has been quite a controversy surrounding the upcoming Windows Phone 8 Apollo update from Microsoft and today, more fuel has been dumped on the fire as a Nokia Evangelist & Developer has claimed that Nokia's Lumia handsets, which run Windows Phone, will receive the update.
WMPowerUser reports that João Luis, citing a source he trusts 200%, says that the update will be heading to Nokia's Windows Phone devices. He specifically mentions the Lumia 610, Lumia 710 and the Lumia 900.
His statements, of course, go against the grain.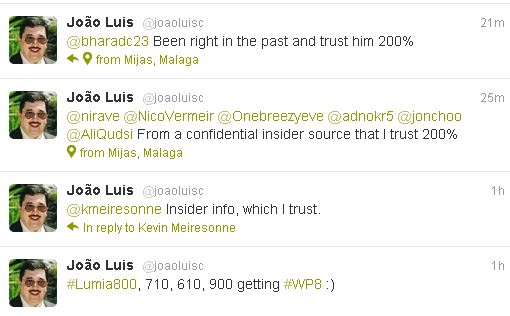 Earlier this week, a Microsoft Evangelist stated that the update would be heading to all current and future Windows Phone devices. However, after a report disputed that, claiming that there was no clear upgrade path for current devices, the Evangelist retracted his statements.
Microsoft itself has no confirmed any details regarding the update so it's impossible to tell at this point who is correct.
Luis claims that his source has been accurate in the past which has led him to trust the information.
In addition, we heard yesterday that the update is being tested on the Lumia 800 in the United States, a possible sign that the software will indeed be heading to Lumia Windows Phone devices at the very least.
The update itself is going to be the next major Windows Phone update from Microsoft. Windows Phone 8 Apollo isn't expected to arrive until around October of this year but already we've seen a few features leak out.
Yesterday, a tipster revealed that the software uses a UI similar to that of Windows Phone 7.5 Mango but that the touch and speed have apparently been greatly improved.
The update is also said to feature a overhauled Internet Explorer, the ability to create folders, better language support for Chinese, and something the tipster calls "gravity sensing," which may refer to being able to lock the screen orientation.

As an Amazon Associate I earn from qualifying purchases.