Nokia's Rolling Thunder Plan: More Handsets to Come
Nokia U.S. head Chris Weber recently talked about some of the company's plans and strategies for the U.S. market following the joint announcement of the Lumia 710 Windows Phone for T-Mobile USA's network. According to Weber, the Lumia 710 is just the beginning and we can expect more from Nokia and the company's Windows Phone efforts iun 2012 in a plan called 'Rolling Thunder.'
Weber says that the Lumia 710 offers the right combination of features, functionality, and pricing for beginning smartphone overs. Citing statistics that there are over 150 million Americans without smartphones, Weber says that the $50 entry price coupled with free maps and navigation, the Clear Black Display, great specs, and a winning industrial design will help Nokia emerge in the U.S. market.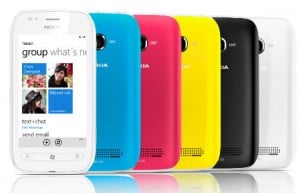 But the Lumia 710 is not the end. In fact, Weber says that the phone will be just the beginning, and we can expect more devices on more carriers in the future.
I can say that we have been talking to a number of carriers and we've been astounded at their overwhelming support. We will be launching more phones on other carriers. The Lumia 710 is the start of a portfolio of products aimed at the United States.
Weber says that as part o the company's Rolling Thunder plan, we can expect to hear more announcements within the next few months that will 'offer something for everyone.'
Sounds like Nokia's targeting everything from entry-level to high-end, much like what Samsung is doing for Android these days.
Via: Nokia

This article may contain affiliate links. Click here for more details.