Nook Color 1.2 Update Reseting Devices without Notice, Won't Re-register & No Wi-Fi
The Nook Color was updated this week to firmware 1.2 with a new app store and some improved apps as well as Android 2.2 FroYo OS. Unfortunately many users including me are having problems with the device resetting itself without warning, thus erasing the device. The Barnes and Noble community forums has a thread with a handful of people reporting that their device was mysteriously reset without warning.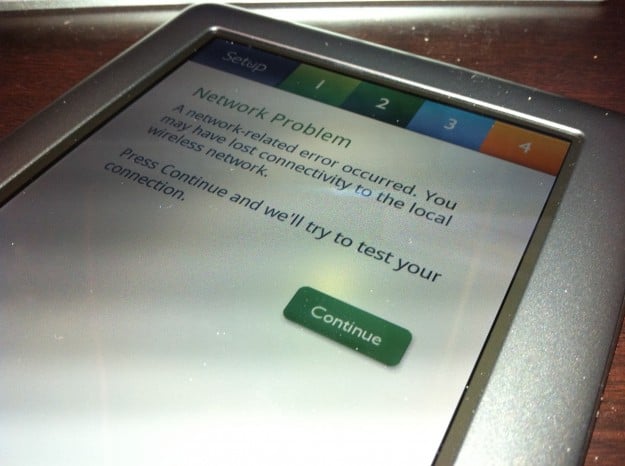 Compounding the problem many of those devices being reset are also not able to connect to the B&N network to be registered again, essentially bricking the device until the company finds a fix. As you can see from the above picture my Nook Color is affected.
This is not a problem related to being rooted. I flashed my Nook Color back to the original firmware before performing the manual update that Josh posted about. Everything went well and I even was able to provide some video for you to see how nice the update was. Sadly, today is a different story.
Have you experienced this issue? If so, did you do a manual update? My guess is that the B&N network is to blame pushing the update out again even though some devices didn't need it. Then with devices trying to re-register the device their network troubles were compounded with another glitch!
Once there is a resolution we'll let you know. If we find out what happened, we will also let you know that.
Until then, we recommend that you not update manually to the new 1.2 firmware.
UPDATE: In addition to the above issues, there seems to be a problem with Wi-Fi connections after the update. Like the many folks in the Barnes & Noble community forums, I am unable to connect to my Wi-Fi network intermittently. Often no networks are shown as available. Suddenly they are seen by the Nook Color and then they go away.

As an Amazon Associate I earn from qualifying purchases.