Barnes & Noble Nook Color Update 1.3 Brings Enhanced Magazines To The Newsstand
Today Barnes & Noble will begin rolling out a firmware update to the Nook Color. Version 1.3 includes some performance enhancement, better Wi-Fi connectivity, and an option for parents to disable the browser before handing it to their kids. The update also gives Nook Color owners access to special edition enhanced Nook Magazines that aren't (yet) available via the Nook app for Android and iPad.
The enhanced magazines — Fortune, People, Sports Illustrated, and Time — will include special multimedia content from embedded video, podcasts, photo galleries, animations, quizzes and more. This extra content will be embedded in the magazines themselves and playable on the Nook Color. Even better, print subscribers to those magazines can now get the Nook Newsstand version at no additional cost.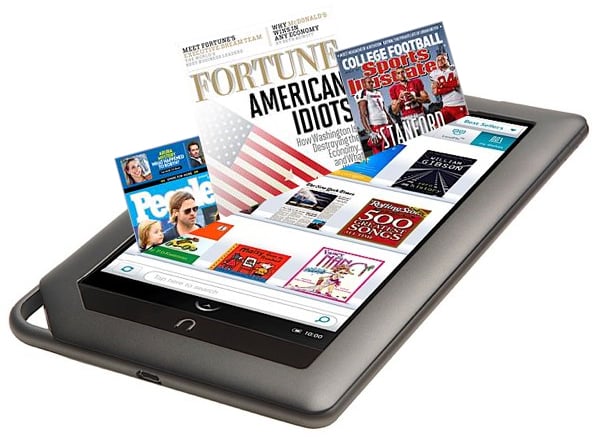 Time Inc. will bring it's entire catalog of magazines to the Nook Color by the end of the year. Yes, Entertainment Weekly and RealSimple fans, your digital fix is coming. And at least one other magazine (Better Homes & Gardens) will also benefit from the interactive enhancements of the four titles listed above.
Barnes & Noble can now apparently boast more top 100 magazines than any other digital newsstand with the addition of Parents, Fitness, Ladies' Home Journal, Traditional Home, Siempre Mujer, Smithsonian Magazine, and The Knot, plus more newspaper offerings. Most of these magazine  titles are available in full color/full layout with ArticleView via the Nook app for the iPad and Android tablets.
Curious about these fancy new enhanced magazines? You can try them out with a 14-day free trial, just as with other magazines, before committing to a subscription. But first you'll have to update your Nook Color. To do so right now, go to the B&N update webpage and follow the instructions. If you're not comfortable downloading the update yourself, you can wait until it arrives over the air in the next few days.

As an Amazon Associate I earn from qualifying purchases.