Nook Tablet: 1 Million Shipped To B&N So Far
Barnes & Noble has shipped 1 million Nook Tablets so far. That's a pretty impressive number, but that doesn't mean that customers bought 1 million of them, but rather that Barnes & Noble received them from supplier Inventec, the same OEM that made the now defunct HP TouchPad. Unfortunately, that's often the way these kinds of things are measured, and we won't know actual sales number until the book reseller reports them (if ever). With the Samsung Galaxy Tab a report surfaced that only 20,000 of the 1 million Samsung ordered actually sold in its early days.
The Amazon Kindle Fire shipped 3-4 million so far, according to industry analysts. The HP TouchPad fell far short of that until the company dropped the price to under $200. The iPad 2 passed the 1 million mark in its early days and sold over 11 million during the fourth quarter, ending September 30, 2011.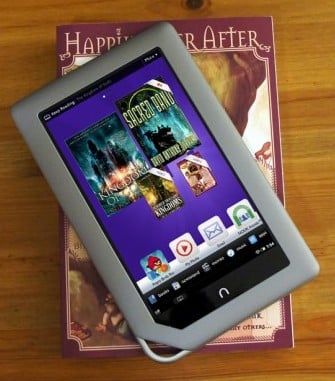 The Nook Tablet and the Kindle Fire are the only two Android tablets that really have decent sales numbers. Price point seems to be one of the reasons for that success, with Nook Tablet costing $249.99 and the Fire selling for $199.99. Being able to walk into a Barnes & Noble and try one out with the display at the very front of every store doesn't hurt the Nook's chances at success either. Buyers can also get hands-on time with the Fire too at many retail spots like Best Buy, Staples, and more. While you can find the other Android tablets to test at some of those same locations, at over $300 and usually closer to $400-$500, they aren't impulse buys.
Below, take a look at our video review of the excellent Nook Tablet:
Source: DigiTimes

As an Amazon Associate I earn from qualifying purchases.