Nook Tablet Review: First Impressions
The Nook tablet is in stores a bit early and customers who pre-ordered theirs should receive delivery today.
If you're still trying to decide if Barnes & Noble's new device is right for you, I'll be posting my thoughts today as I use it for reading, surfing, and watching video.
My preliminary thoughts are pretty simple: the Nook Tablet is the Nook Color, but better. It's faster, lighter, and a pleasure to use. If you liked the Nook Color and are ready to trade up, you're not likely to be disappointed. Want the full story? Read the Nook Tablet review.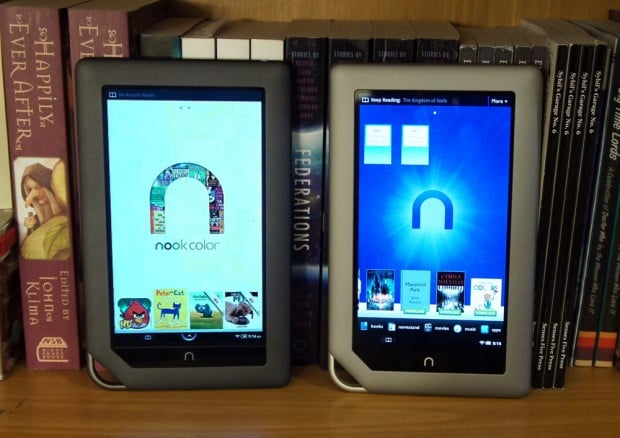 As you can see from the pictures, the Nook Tablet looks similar to the Color except for the lighter color. They're the same dimensions — 8.1 x 5.0 x 0.48 inches — which means Nook Color covers and cases will fit it. This is great news for case manufacturers as well as those who already own the Color.
The only other difference to the chassis beyond color  is that the Nook Tablet weighs less (14.1 ounces) and you can really feel the difference when you hold them both. The Nook Color has always been just a bit too heavy and the Nook Tablet fixes that.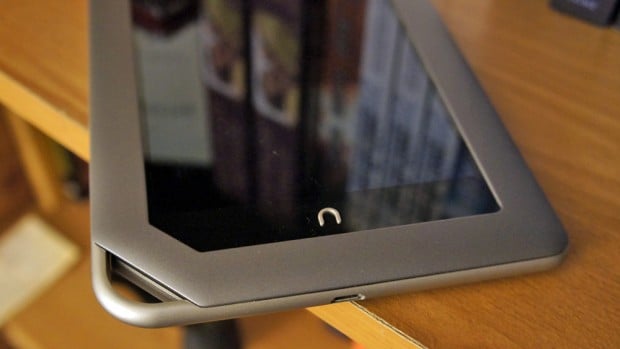 The Nook Tablet has the newest version of the Android-based software, which is built up from Gingerbread. The basic user interface is the same, though B&N did tweak things a bit.
On the Home screen there's now an additional bar at the bottom that calls out the main functions of the device: Books, Newsstand, Movies, Music, Apps. In each little bubble you'll find both pre-loaded content and other thematic apps. Otherwise, it appears to be mostly unchanged from the Nook Color's software. Again, this is a good thing since the UI was another of that device's strengths.
The UI is basic, yes, and hard core Android fanatics will probably root it right away. However, this is one of the few Android devices that truly doesn't require tech-savviness to grok.
Inside there have been some changes, including a dual-core processor and 1GB of RAM. Performance-wise, the Nook Tablet is definitely snappier than the Color. You see the difference most when switching between apps and playing games. Web pages also load a tad faster. I'm going to test it's multitasking prowess today, but so far I'm pleased.
Watching both SD and HD content via Netflix was great. The speaker on the back pumps out decent sound, though I'd be more likely to plug in some headphones when watching. Colors popped, I didn't see any hitching or obvious dropped frames, and even older shows appeared crisp.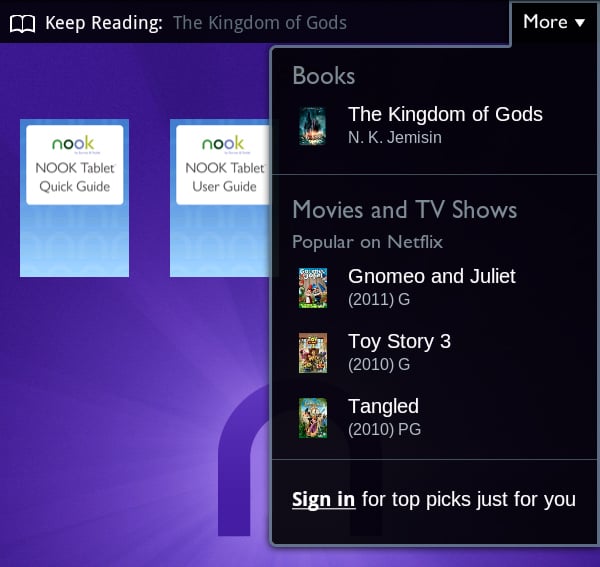 And let's not forget books. I immersed myself in a few chapters of N. K. Jemisin's The Broken Kingdoms and liked it as much as reading on the Nook Color. Better, actually, since I didn't feel the weight much.
My next step is to sideload some video and music, read a children's book, and see what new apps are available. What else do you want to know about the Nook Tablet?