Nook Tablet vs. iPad 3rd Gen
Each tablet has pros and cons based on how and where you plan to use it, how into eReading or media you are, and how much you're willing to spend. Need help deciding which one is best for you? Read on for comparison of the new iPad and the Nook Tablet.
The new iPad earned our Editors' Choice Award last week and the loyalty of over 3 million buyers this weekend. While it may seem like everyone in the world bought one of Apple's new $499+ tablets, I know there are many of you out there still trying to decide.
Just because it's the most popular doesn't mean it's the best tablet for you. Different people have different needs.
If you're contemplating a tablet in the 7-inch size range for the portability or the lower price, you're probably checking out $199 – $249 Barnes & Noble's Nook Tablet. We gave this an Editors' Choice, too, and it's still a personal favorite of mine.
Each tablet has pros and cons based on how and where you plan to use it, how into eReading or media you are, and how much you're willing to spend. Need help deciding which one is best for you? Read on for comparison of the new iPad and the Nook Tablet.
Nook Tablet vs. iPad 3rd Gen

Rounds

Related Articles
Size
Apple iPad 3rd Gen | 9.5 x 7.31 x 0.37 inches | 1.44 pounds (23.04 ounces)
Barnes & Noble Nook Tablet | 8.1 x 5.0 x 0.48 inches | 14.1 ounces
People looking to do a great deal of reading on their tablet will notice the size difference between the iPad and Nook Tablet the most. It's not as much about the screen as it is about the whole package.
The iPad is light for a near-10 inch slate. You'll still feel it more when you're trying to hold it during long reading sessions.
The Nook Tablet weighs almost half as much and is easier to stow away in a jacket pocket or small bag. It's lighter than the Nook Color that came before it, which was just a little too heavy for long reading sessions. The Tablet is not.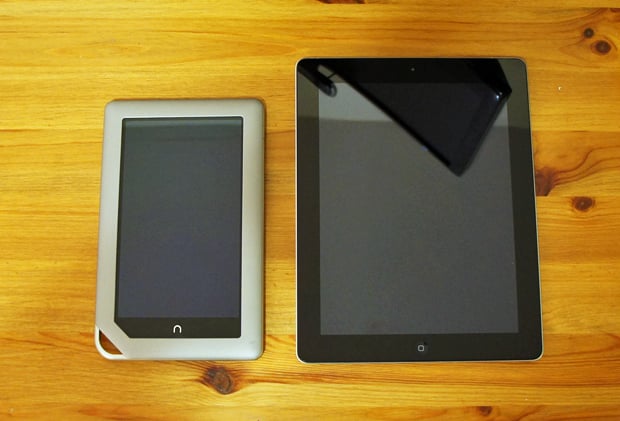 As I noted in my Kindle Fire vs. iPad post, it's easier to pull out a 7-inch tablet while on a crowded train or bus, standing in line, or other scenarios where you can only use one hand or can't settle in and get completely comfortable.
Those who don't want or need to take their tablet everywhere and will mainly use it at home, the iPad is a better choice. There the weight isn't as much of an issue since you can rest it on your legs or a stand. Plus, when watching video, referencing recipes, or scanning social networks while multitasking, the larger display is an asset.
Display
The Nook Tablet's IPS display isn't as impressive as the super HD 2048 x 1536 resolution Retina Display on the iPad, it's still a good display for reading. Thanks to wide viewing angles and decent outdoor visibility, users can comfortably spend hours in a book without eye strain (as long as LCDs don't annoying them to begin with).
The 1024 x 600 resolution is fine for the Nook Tablet's apps, and small text isn't too fuzzy/indistinct to read. Thanks to bright colors and deep blacks, watching Netflix and playing games is enjoyable as well.
However, the iPad's display is made for watching video, playing complex 3D games, and for reading small fonts. Side by side, the iPad is also brighter than the Nook Tablet with both set at 100%. This isn't necessarily a good thing for the iPad, as a brighter LCD means your eyes will need a break faster.
For people who plan to do more reading than playing games or watching video, the iPad is overkill.
Reading and eBooks
Since the beginning, Barnes & Noble has emphasized the Nook Tablet's priority as a device for people who love reading. It can do many of the things other tablets can do, but you buy it because your big priority is eBooks. The iPad makes for a good eReader, but that's clearly not its major function.
B&N built a comprehensive eReading experience into the Nook Tablet that pervades almost every aspect of the device. The bookseller always incorporates the best ideas and technology into the Nook Tablet (and Color) first, such as enhanced magazines, comics, and enhanced children's books.
The eBook app found here is one of the best I've ever tried because it offers several color and theme choices, one-touch access to screen brightness, and simple social sharing functionality. The magazine reading experience on the Nook is top notch and kid's books strike a good balance between interactivity and keeping the focus on reading.
Owners aren't limited to only eBooks from Barnes & Noble — it's possible to load books from other stores that sell EPUB format (Sony, Kobo, Google) and library loaned eBooks. There's no way to read Kindle books without either rooting the Nook or breaking the DRM (with one slim exception).
Apple's iBooks comes with the iPad, but it's not the only eReading app available to owners. Most of the major eBooksellers, including B&N, have iPad apps: Amazon Kindle, Google Play Books, Kobo Books. Through these or other eReader apps users can also read library eBooks.
In addition to the Kindle and Nook apps, users can get their digital periodical on with Apple's Newsstand or Zinio. While I'm a big fan of magazines on the Nook, I really like not having to zoom in to read smaller text on the iPad. This goes for comics, too.
Customers who want the most choices across the board or who just don't read that much will be happy with the iPad. The Nook Tablet is a better choice for hard core eBook lovers.
Multimedia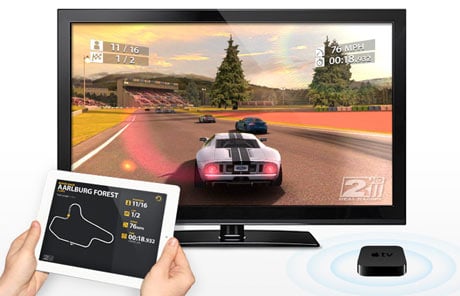 If multimedia is your priority there's no doubt that the iPad is the superior tablet. The Nook plays and streams music and video smoothly and provides a decent experience. But those functions are secondary and there to compliment the eReading aspects. The iPad is made for media consumption.
This is even more true for the new iPad thanks to the Retina Display and the tablet's AirPlay capabilities. Users can watch full 1080p HD video, stream anything on the screen to an HDTV via Apple TV, and play graphics-intensive games thanks to the A5X processor inside.
The Nook Tablet can play the same file types as any Android Gingerbread device, but has no content store for music or video. The iPad has access to the vast iTunes library for music and video (rent or own) plus a slew of streaming apps to choose from.
Apps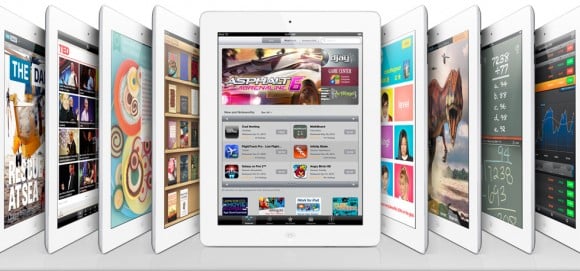 Right now there are over 585,000 apps available in Apple's App Store and over 200,000 of those are made specifically for the iPad.
The Nook Tablet is an Android device, but does not have official access to the Google Play Store/Android Market. Nook users are limited to the Nook App Store (unless they root) with just over 2,800 apps.
The reason for the small selection (beyond there being fewer Android apps in general) is that Barnes & Noble is super selective about what they'll approve for the Nook Tablet. The apps here are supposed to compliment the Reader's Tablet vibe they have going on. There are some games and fun apps, though for the most part you'll find productivity, women's interests, utilities, or literature-related apps.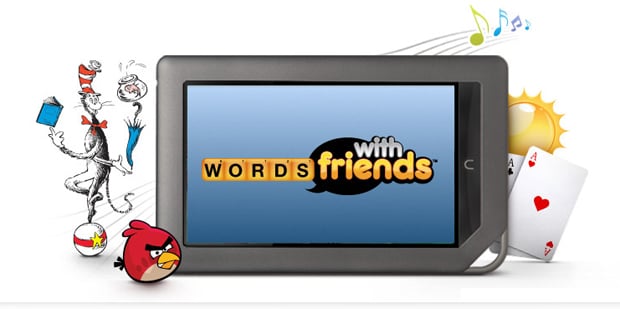 If your app needs are simple – productivity apps, reading, surfing the web, a game every now and then – the Nook Tablet offers that.
Almost any new, hot app can be found in the iTunes App Store, and thousands are exclusive to that platform, making the iPad attractive for people who want to do everything with it.
Like Apple, Amazon checks every app they offer in their store for viruses, malware, and compatibility with the Fire.
Price and Selection
Consumers with budget concerns will certainly eye the Nook Tablet favorably as it costs 50-60% less than the iPad. The trade-off is that the Nook's hardware and features aren't as robust as the iPad's.
Beyond just being smaller, the Nook doesn't have any cameras, Bluetooth, 3G or 4G options, or HDMI output. Not everyone needs these extras and would gladly give them up to save money.
The iPad offers almost everything a tablet shopper could want both in the hardware and software realms and works to justify the premium price. There are three Wi-Fi only models — $499 16GB, $599 32GB, $699 64GB – and then three models with the same internal storage plus 4G LTE on AT&T and three more models with 4G LTE service provided by Verizon Wireless that cost $629, $729 and $829.
There are two Nook Tablet models. The original $249 16GB version and a $199 8GB model with half as much RAM. Both only offer Wi-Fi connectivity. Unlike the iPad, Nook owners can expand the amount of storage space with a microSD card (up to 32GB extra).
The Bottom Line
eBook lovers, people with simple tablet needs, and consumers with tight budgets will be better off going for the Nook Tablet. Barnes & Noble's device offers a great eReading experience and portability.
People looking for a tablet with more of everything from apps to content to resolution will be happier with the iPad.

As an Amazon Associate I earn from qualifying purchases.