North Face E-Tip Gloves are Tech Friendly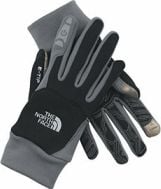 Here's a new one: The North Face has released a new pair of gloves that play nice with your touch-enabled mobile gadgets.   The gloves feature special pads of X-Static material on the index finger and thumbs.   No matter how cold it gets, you'll still be able to answer your phone or browse your mobile music library.   The E-Tip gloves can be purchased for $40.
Via Uncrate

As an Amazon Associate I earn from qualifying purchases.