Note Take HD Developer Dan Bricklan on Twit's Triangulation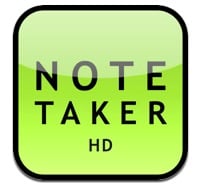 If you are a fan of Note Taker HD, you might be interested in meeting the developer, Dan Bricklin. He is no lightweight in the software development community. As the creator of Visicalc, he has quite a pedigree. The young people won't recognize Visicalc unless they are also computer or software history buffs. Visicalc was the first "killer app" that made the personal computer a must have for businesses. It started what is now the spreadsheet. Many years later he is still making killer apps, now for the iPad.
As a guest of Leo LePorte and Tom Merrit on the TWIT network show Triangulation, Dan demos his app and talks about the process of putting the great note taking/inking app together.
You might be amazed to learn that you can still download and run Dan's original app Visicalc.
Note Taker HD is available in the app store for $4.99.

As an Amazon Associate I earn from qualifying purchases.