NotebookReview.com review of the HP TX1000, plus comments on naming and features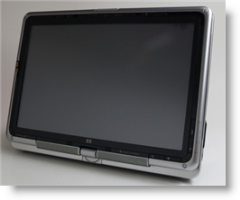 The folks over at NotebookReview.com have gotten their hands on an HP TX1000 to review, and done their usual nice job of covering the machine. I really believe that this machine will be a success at retail when it arrives there, which I hope sincerely is very soon. The machine is scheduled to be available to the public on February 28th, but I suspect that will only be online purchase at that point. Preloaded with Windows Vista Home Premium by default, you can upgrade to Vista Ultimate.
I found this section of the review most interesting where Tiffany and Andrew talk about the "Tablet PC Features":
"The HP tx1000 has a swivel screen and offers a touchscreen option. Note, at the starting price of $1,299 the screen is not touchscreen enabled, it is an upgrade option. The screen input capability is passive digitizer and not active, meaning it does not include the Wacom technology power Tablet PC users are used to having. Rather, it's like a PDA in that pressure against the screen from a stylus is what registers a pen stroke.

The advantage to a touchscreen is that you can simply use you finger to drag windows around or open menus (just make sure to bring along that screen wipe cloth HP includes to get the greasy finger marks off the screen). The included stylus is not powered in any way, so there are no worries about a battery or charging, plus it's cheap to replace if you lose it.

The disadvantage to a passive digitizer (touchscreen) is it's less accurate, slightly harder to calibrate and you have to make sure to keep downward pressure on the stylus to register a stroke. In my usage, when writing in cursive you had to train yourself to keep up the pressure or you'd generate incomplete letters (missing the tail on a ""g" for instance). It simply did not feel as natural to write with this type of screen compared to an active screen. You also can't flip the stylus and erase like with active digitizer pens. Overall, it's just a second rate tablet experience with this type of screen. I'd say it's fine for now and again usage, such as jotting some science notes down in class that are hard to type out using a keyboard, but if you'll be using the tx1000 primarily as a Tablet PC you'd do better to investigate other HP tablets that offer an active digitizer such as the business series HP Compaq tc4400.

Minor gripes aside, I have to say I think it's just cool that the tx1000 combined with Windows Vista Ultimate OS gives you Tablet PC functionality as just part of the package now, you can either use it or not. HP is not hawking the tx1000 as foremost being a Tablet PC, it can be looked at as an extra feature — there if you should ever need it. I'm sure all of us can find something handy about a screen that rotates and that's touch sensitive, just fill in the blank on the possibilities it could bring to your lifestyle. The price premium for having this functionality isn't much these days. Remember when any Tablet PC enabled device was automatically $2,000+ and required a specially hacked Windows XP Tablet Edition OS? Those days are over."
In this review they refer to this as a "Convertible Notebook". Is this the new terminology on a "Convertible Tablet PC"? I went to HP's site to investigate this further, and sure enough, the product is listed as "HP Pavilion tx1000z Notebook PC", with no Tablet PC in the name. You do not get touchscreen or tablet functionality in the base model, this being the first time that the tablet functionality is actually an option that I remember.
Interesting. Will we see more of this?
We will be doing a full InkShow video review of this machine as soon as we get one in our hands.
See the full NotebookReview.com review here.

As an Amazon Associate I earn from qualifying purchases.