Notion Ink Adam gets price, still somewhat vaporous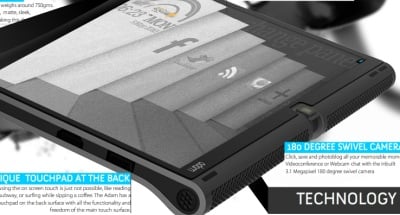 Slashgear, which has become the defacto media outlet for Notion Ink, reports that the long-awaited, many-faced Adam tablet will be priced from $399 to $498, depending on model, and has picked up several enhancements. Great news if it ever gets released.
According to their source, there will be four versions that mix and match between LCD or Pixel Qi displays and Wi-Fi only or 3G. The lowest priced model is $399 for LCD, Wi-Fi only (+$50 for built-in 3G), while the Pixel Qi version is $449 for Wi-Fi-only and $498 for 3G. One factor not mentioned is the price delta between 16GB and 32GB storage, which are both listed in the specs on the Notion Ink website.
Along with that are hints of a "high-end" variant of the iTunes Store, a "beautiful" drawing tool, Unreal Engine Support with games pre-loaded, and a next-gen email system that sounds superior to BlackBerry or Microsoft Exchange. While I appreciate the need to talk up one's product, there is a point where one can go too far and the phrase "sounds too good to be true" comes to mind.
Hardware improvements include 802.11n support, true GPS on all models, and better angle on the camera. Great little tweaks to the hardware, but judging from all the mock-ups and prototypes, it seems like the hardware tweaks will never stop. The only major change has been between the initial rounded mock-up to the current wedge design, but repeated little changes, from changing of the camera to moving the power button, add up to concerns that the design still isn't final.
Also of note is the mention that a November launch, which was previously disputed by the CEO, is now a highly optimistic projection. Manufacturing is set to start in November, followed by submission to the FCC either then or in December, then approval which can be from 2-12 weeks. So there's a window from November to March. That's cool, except there's no explanation why the November launch went from only "in a few countries" to being the earliest possibility.
I understand that Notion Ink had to put up with a lot of business BS behind the scenes, and that's messed things up. However, every new tidbit of data that gets released seems to be followed by a new unanswered question or other red flag. I, and it seems many others, want to believe the Adam will be released and deliver on everything it promises. However, for a two-year company with no track record, the benefit of the doubt can only extend so far.

As an Amazon Associate I earn from qualifying purchases.