NOVA Mobility Systems Ruggedized Touchscreen Tablet PCs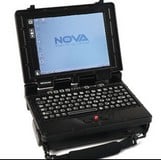 I have always been fascinated with the ruggedized Tablet PC concept but never been lucky enough to have seen one in person. Barry Doyle of TabletPCReviewSpot.com got a chance at the Corporate and Channel Computing Expo to check out NOVA Mobility Systems' entries into the ruggedized field and has filed a report with pictures. From what I can gather from NOVA's website, the Tablet options at this point are all touchscreen only, but they sure look like impressive devices and almost indestructible. The specs on the site are pretty impressive.
Here's a thought, and I think Dennis and Rob would agree. The makers of all ruggedized Tablet PCs should send GottaBeMobile.com evaluation units. We'll test them out fully, produce InkShows of their products, and then also produce InkShows of the GBM team trying to destroy the units by subjecting them to all sorts of extreme circumstances. What'd ya think, guys?