Novatel Expedite E362 LTE Module Gets Approved, Set to Bring 4G LTE to Motorola Xoom?
Novatel has announced that its Expedite E362 LTE module is the first embedded LTE module to get approved for use on Verizon's 4G LTE network which means that it could very well be the card that brings the Motorola Xoom 4G LTE support.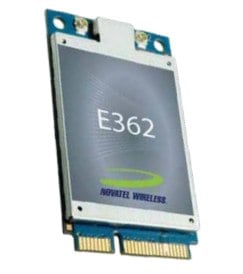 The Expedite E362 has a bunch of interesting features including backwards compatibility with existing 2G and 3G GSM and CDMA networks, support for Windows 7, Vista and XP, as well as support for Android Froyo, Android Gingerbread and Android Honeycomb.
And because it supports Android Honeycomb, there is a very good chance that Novatel's E362 will be the card that Verizon uses to upgrade current Motorola Xoom owners to 4G LTE.
Besides compatibility with tablets, the modem also functions with notebook and netbooks so we should see it show up with those in the near future as well.
—
Novatel Wireless Embedded LTE Module First to Receive Certification for
Commercial Use on Verizon Wireless 4G Network
SAN DIEGO ­ May 19, 2011 ­ Novatel Wireless (NASDAQ: NVTL), a leading
provider of wireless broadband solutions, today announced that it has
received technical approval for its Expedite E362 4G LTE embedded module to
run on the Verizon Wireless LTE network.
Novatel Wireless is the first provider to have an embedded LTE solution
commercially available and compatible with the Verizon Wireless network.
Novatel Wireless embedded modules portfolio provides innovative solutions to
integrate high-speed data connectivity into notebooks, netbooks, tablets and
other portable entertainment devices.
³We¹re proud to cross this milestone with our leading next-generation 4G LTE
embedded module,² says Rob Hadley, CMO of Novatel Wireless. ³To meet
consumers¹ desire to be connected anywhere, anytime, we are actively engaged
in integrating our 4G embedded modules into platform launches with a number
of devices and notebook manufacturers as they roll-out next-generation
enabled mobile broadband devices.²
Developing on the proven performance of the Expedite product line, Novatel
Wireless¹ Expedite E362 LTE embedded module is optimized for power
efficiency, thermal performance and weight. Additional key features include
Novatel Wireless¹ proven Connection Manager ­ Mobilink 3 – supporting
Windows 7, Vista and XP as well as  software support for OEM tablet and
notebook integration with both Windows drivers and Android RIL (from Froyo
to Honeycomb). The Expedite E362 is capable of multimode support for LTE and
backward compatibility to existing 2G and 3G GSM and CDMA networks.

As an Amazon Associate I earn from qualifying purchases.