Now that that's settled – Let the Verizon iPad rumors begin!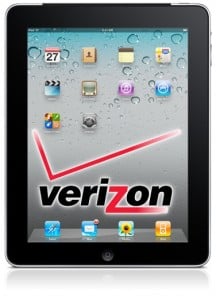 Thank goodness the Verizon iPhone is finally here. Now the rumors about it can end. The cries to free the iPhone from AT&T can cease. And we can go back to not talking about any Verizon-Apple products until… Oh, you have to be kidding me.
Yep, the dust hadn't even settled from the announcement of the Verizon iPhone when talk about the Verizon iPad, one that does not rely on an external MiFi mobile hotspot, began. In fairness though, this isn't a rumor – it's straight from the Verizon money man's mouth. Via Bloomberg Businessweek:
Verizon will get an embedded chip in the iPad for use on its network, Francis Shammo, chief financial officer of Verizon Communications Inc., the parent of the wireless unit, said today in an interview in New York.
No subtle insinuations this time. Just a straight-out statement that Verizon will get an iPad directly on their network. Despite my weariness over the general subject matter, I have to admit, this does actually interest me.
First, if it works like the AT&T iPad and allows users to buy service on the spot without contract, then I might consider it, just as I have considered its AT&T counterpart. If it allows hotspot service, just like the Verizon iPhone 4, then I'll be just about sold. I've already said I would eventually get an iPad, and as we look more seriously at mobile and tablet-based publishing options at work, the pressure to do so is growing. On top of that, I've recognized that a mobile hotspot, separate from my phone, would have come in handy recently. Put those together in one device (without a two-year contract), and I'm out of excuses.

As an Amazon Associate I earn from qualifying purchases.