Now There's a Netbook Mac OSX Compatibility Chart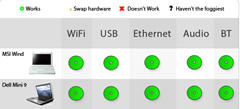 Oh, my. Whether or not Apple unveils a Netbook or not, some just can't wait. We've all the scene the stories about hacks to get OSX on Netbooks, including the latest news of the Hackintosh version of the MSI Wind that Matt Dillion posted on over the weekend. Well, now there's a full blown compatibility chart for those who like to home-brew and skate around end user agreements.
From the chart it appears that the MSI Wind and the Dell Mini-9 are the Netbooks to get if you're in the spirit.
Full chart after the jump.

As an Amazon Associate I earn from qualifying purchases.