Nuance Offers Dragon Recorder for Voice Recognition Time Shifting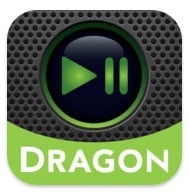 Nuance, the makers of the popular voice recognition software known as Dragon NaturallySpeaking on the Windows side, and MacSpeech Scribe and Dragon Dictate on the Mac side, have added a new app to their suite of voice recognition apps on the iOS platform called Dragon Recorder. This app, along with their others, could help those of you without an iPhone 4S get some Siri-like functionality on your iOS device. More importantly, it let's you dictate into Nuance voice recognition software even if you're away from your computer. The app lets you use your iPhone, iPad or iPod Touch (4th gen) as a digital voice recorder. You then download the recording and import it into their voice recognition software on your computer.
Dragon Remote Mic works with MacSpeech Scribe, an OS X only application, or Dragon NaturallySpeaking on the PC side (Premium, Profession and Legal editions only). The user first records the content they wish to later dictate.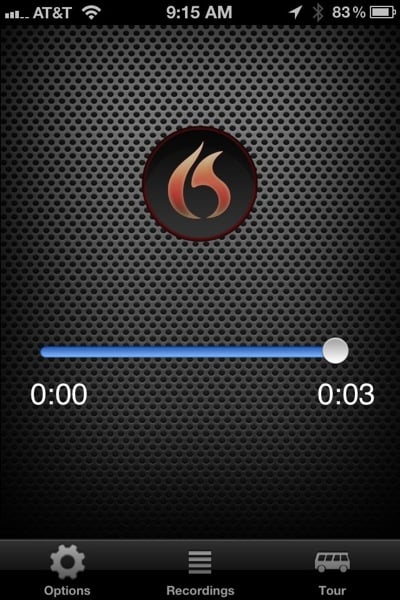 Once you connect your device to the same network to which the computer connects, then you can download the file via the web browser on the computer. Tap Options at the bottom of the iOS app screen and then turn on Wi-Fi Sharing (see below).
A numeric web address will show up. Type that into the computer's browser and a page will list all the recordings you've created on the device. Right click and choose to save the file (see below).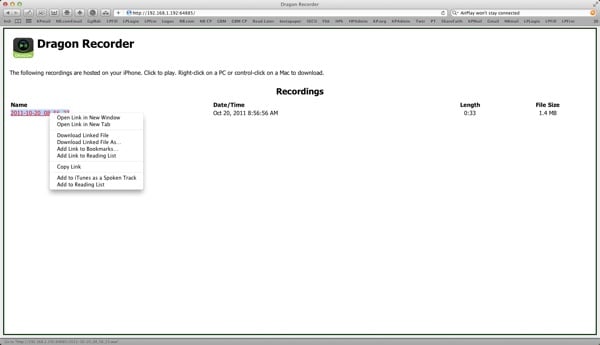 You can then import the WAV file into your chosen dictation software and let it do its magic.
The app also works as a simple voice recorder, letting you record and listen to audio. It has fast forward, rewind, and scrubbing features as you listen to the recordings.
I've only played with the app a little bit and haven't even tested the dictation recognition on a computer yet. It seems simple enough, and I hope to test out how well it recognizes your voice on the computer. The app doesn't require you to train it, however, once you import it into the computer software it won't recognize the speech unless the recording contains the voice used to train the computer software. So, you won't be able to use it to record things like speeches or lectures from other people. I'm considering using it to transcribe my Sunday sermons by placing my iPhone on the lectern while I speak.
If you have either of the compatible programs, give it a try. The app is free in the App Store. Also Nuance has a slew of other voice apps for iOS including the following:

As an Amazon Associate I earn from qualifying purchases.