NVIDIA Announces New Mobile GPUs That Could Come To Future MacBooks
NVIDIA recently announced a new lineup of mobile graphics chips which will come to future laptops, possibly including the next generation of MacBooks.
The new NVIDIA GeForce 700M Series will bring faster, more efficient graphics to future laptops. The new chips bring features from NVIDIA's current line of desktop graphics chips to notebooks, including the Kepler architecture which makes chips more power efficient.
The Kepler architecture means notebooks will use less power and be cooler to the touch, even when playing games. That's good news for anyone who likes to put their notebook on their lap, but hates when they can feel it burn their legs even through a pair of jeans.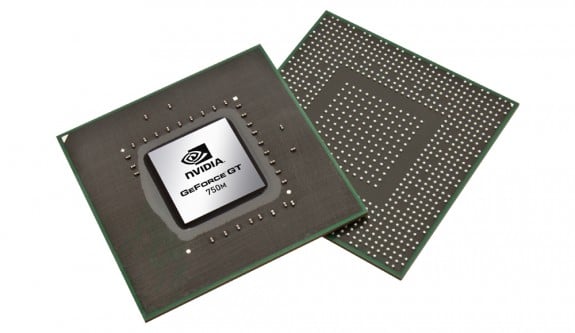 According to NVIDIA's testing, the new GeForce 700M series is at least 2.5 times faster than Intel's HD 4000 integrated graphics. The low benchmark is for the 720M chip, while the top of the line 750M is up to 6.5 times faster than Intel integrated graphics. That's good news for those who like to play games on their laptops, or those who use Photoshop or video editing software often.
NVIDIA's Optimus technology means that when users don't need the graphics card it will switch to integrated graphics. That helps save power while the user is just browsing the web or doing other things that don't need intensive graphics.
Those who like to play games on their laptops will like the new GeForce Experience that automatically optimizes the graphics in most high-end games so they run as smoothly as possible on notebooks with the new chips.
While NVIDIA didn't announce which partners will use the new GeForce 700M graphics cards, the cards seem destined for the next generation of MacBooks. The current 15-inch MacBook Pro with Retina Display currently uses the NVIDIA GeForce 640M graphics card, so an upgrade to a similar chip in the 700M series makes sense.
The next generation graphics chips will also likely make their way into the next refresh of the iMac. The 13-inch Retina MacBook Pro and the MacBook Air may stick with integrated graphics, however.
It also seems likely that Razer will include a 700M graphics card in the next iteration of the Razer Edge, assuming there is one.