NVIDIA Announces Quad-Core CPU, 12-Core GPU on Mobile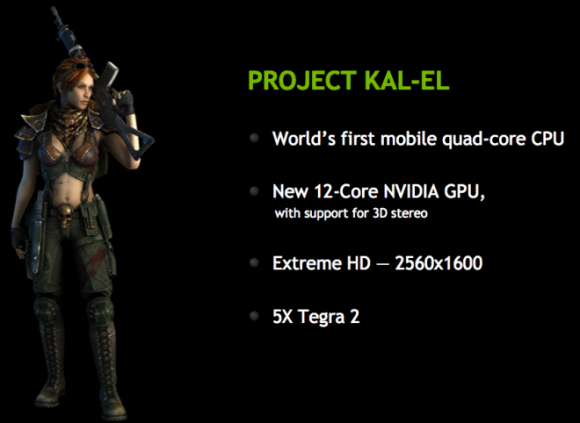 If you think the Tegra 2 is strong and powerful, you better wait for NVIDIA's Tegra successor, codenamed Kal-El, which promises a qhopping quad-core processor coupled with a 12-core NVIDIA GPU to support display resolutions of 2,560 X 1,600 pixels. According to the chip-maker Kal-El delivers up to 5 times the performance of Tegra 2.
The Tegra 3 chipset is slated to launch in an Android tablet in August 2011. NVIDIA will still be committing to improving its mobile chipset. Wayne, the Batman codenamed Tegra 4 chip will deliver 10 times the performance of Tegra 2, or double that of the Tegra 3, and will hit in 2012. Tegra 5 will deliver 50 times what Tegra 2 offers today and Tegra 6, codenamed Stark, will offer 100 times the performance of today's mobile chipsets.
With hardware innovation like this, mobile processing power will only increase the capabilities of what smartphones and tablets are capable of in the years to come. It will definitely be interesting to see what mobile devices will be capable of, and how they will be evolved in the future.
Via: IntoMobile

As an Amazon Associate I earn from qualifying purchases.