NVidia CEO Talks Netbooks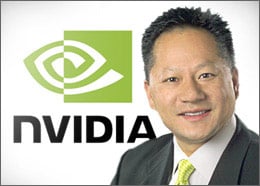 Mark Spoonauer of Laptop Mag.com sat down with NVidia CEO Jen-Hsun Huang for a fairly lengthy interview regarding Netbooks and NVidia's ION GPU. Within the context of who we are talking to here, (obviousy NVidia is pushing its own platform) there is still some very interesting information coming out of the interview.
Here are some highlights:
Adding the ION platform to a Netbook would make the cost around $399.
AMD's Neo platform will ""destroy" Intel's Atom processor/ integrated graphics solution
VIA's Nano platform has the performance of a processor that's a generation beyond Atom but the company's lack of software expertise is a major obstacle.
The Atom platform is creating an installed base of PCs that's going to eventually hurt the PC software industry
There's so much more to read in this interview, and Jen-Hsun Huang is not one to shy away from a strong opinion, that you really should take a look at the entire article.
My takeaway? This Netbook market is even more frenzied than I thought and no one has a real grasp on it yet.

As an Amazon Associate I earn from qualifying purchases.