NVIDIA Confirms Surface 2 Plans for Microsoft
It looks like NVIDIA and Microsoft may be back together again as NVIDIA has just confirmed it will be working on a second generation Surface RT tablet. In an interview with CNET, NVIDIA head Jen-Hsun Huang said that his company is "working really hard" on a Surface 2 tablet and hopes that the new slate will be more successful than the first Surface RT.
"Now we're going to bring it with the second-generation Surface. We're working really hard on it, and we hope that it's going to be a big success," Huang said.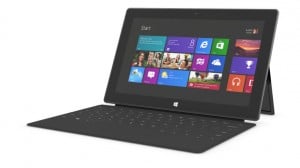 NVIDIA's Tegra 3 processor is powering the current Surface RT. It's unclear if NVIDIA will be providing its current Tegra 4 chipset or if the company will be leveraging a Tegra 5 CPU for the new ARM-based Windows tablet from Microsoft.
Microsoft had recently wrote off $900 million due to slow sales of the Surface RT tablet. The company initially debuted its first foray into the hardware tablet space at $500, but slashed prices by $150. At the new $350 retail price, Surface RT sales have been picking up. Despite a loss and a slow start, it looks like Microsoft may not be deterred from the Windows RT platform.
One of the problems with Windows RT is that it operates on ARM-based processors. As such, despite an appearance that's identical to Windows 8, these slates won't have access to programs that's developed for the x86 platform running on Intel and AMD processors. Windows RT is limited to apps that are designed for the Metro UI.
In the past, it was believed that Microsoft may either continue to partner with NVIDIA for a next generation tablet or it may switch to processors powered by Qualcomm.
Microsoft so far has not made any of its plans for the next generation Surface public.