NVIDIA Plays Dead on Arrival 2 on Project Shield
In a new video showcasing its new Project Shield console NVIDIA demos the upcoming zombie shooter Dead on Arrival 2.
In its latest video showing off Android games on Project Shield NVIDIA shows part of the upcoming Dead on Arrival 2 complete with Tegra-enhanced graphics. Like the original Dead on Arrival, Dead on Arrival 2 has gamers trying to survive against an onslaught of zombies with a variety of weapons, and the new game has a few features unique to Tegra devices like the Project Shield.
When played on a device with a Tegra 4 processor like the Project Shield Dead on Arrival 2 will look much nicer with added graphical details and dynamic lighting. The dynamic lighting means stationary objects in the game as well as the zombie hordes will cast shadows from flashlights attached to the game's weapons.
The Tegra 4 means the game can also show roads slick with rain as well as the rain hitting the black top.
Dead on Arrival also adds new physics when played on Project Shield or other Tegra devices. The new physics engine means that boxes in the environment will fly around the level when shot, potentially hitting zombies or the player. Zombies also gain rag-doll physics on Tegra devices so their lifeless corpses can move around the environment instead of just disappearing.
At one point in the video the game switches to show what it looks like on non-Tegra devices, and the difference truly is night and day. While the enhanced version isn't necessarily PC or console quality, it looks at least as good as any PlayStation Vita game.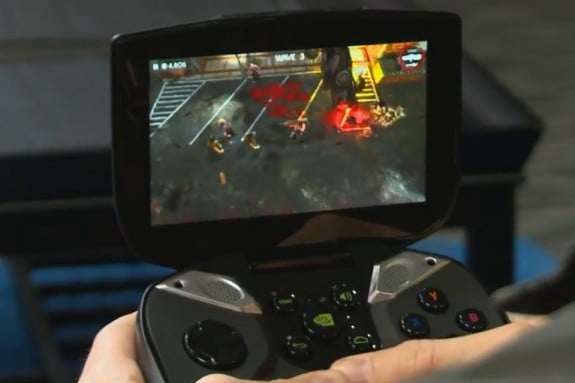 NVIDIA also discusses the multiplayer possibilities of the Project Shield with games like Dead on Arrival 2, but doesn't show the feature. The idea is that multiple gamers with Shield consoles can play multiplayer games while they're in the same room. Presumably it would work online as well, as long as the game supports online play.
The NVIDIA Project Shield Android console should ship by July 2013, though NVIDIA hasn't given an exact release date or price for the Android console yet. In addition to playing Android games like Dead on Arrival 2 the console can also stream games like Borderlands 2 and Need for Speed: Most Wanted from a gaming PC.

As an Amazon Associate I earn from qualifying purchases.