NVIDIA Says Kal-El Quad-Core Tablets Coming This Fall, Phones in 2012
Need more evidence that a quad-core powered Asus Eee Pad Transformer might be coming in October? How about confirmation from NVIDIA that Kal-El quad-core powered tablets are coming this fall? That work? Good, because that's exactly what has come out of the NVIDIA camp today.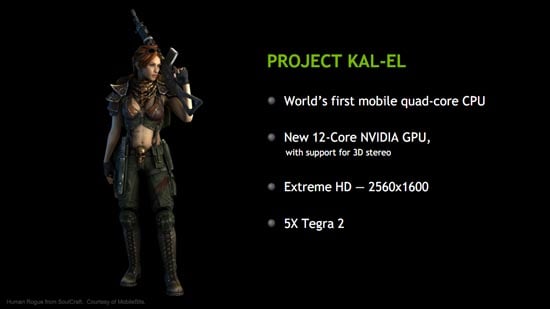 The company has confirmed the time frame to Android Central in a statement that reads: "Project Kal-El-powered tablets are coming this Fall, and phones around the CES 2012 timeframe." We love the candidness of NVIDIA's statement and we're excited about the tablets that are in the 2011 pipeline. There is something else in that statement that is worth mentioning too. NVIDIA expects phones, yes the same devices that just got upgraded with dual-core processors, to be debuted at this year's CES in Las Vegas.
Of course, that probably means that we won't see quad-core phones until the middle half of 2012 but hey, we're excited nonetheless. I'm also excited to drop a couple of punchlines about any next-gen Motorola device that is launched at next year's event.
So, what does this mean for a Kal-El quad-core powered Nexus device if NVIDIA doesn't expect these devices to be unveiled until CES and thus, launch several months later? We're not worried just yet. For one, it's possible that the next Nexus might not launch until early January and two, why would NVIDIA want to ruin the surprise?
That being said, we very well see a dual-core Nexus device arrive when Ice Cream Sandwich rolls out instead of one powered by a Kal-El processor, which, isn't such a bad thing at all.