NVIDIA Says Quad-Core Mobile CPUs Coming in 'Near Future'
NVIDIA, the maker of the dual-core Tegra 2 chips that are beginning to gain momentum in the high-end smartphone and tablet market, is saying that dual-core chips for mobile will become the standard in 2011 and that quad-core solutions will be available in the near future.


The company had announced aggressive plans for its Tegra CPU lineup, saying that the chip would be updated on an annual basis to accommodate the growth of the smartphone market. While early high-end smartphones centered around Qualcomm's Snapdragon processor, clocked at 1 GHz, device makers are seemingly transitioning towards Tegra 2 for 2011 for new devices. Being the beneficiary of the change, NVIDIA has said that its Tegra 3 chipset is almost done and Tegra 4 is being built. This, hopefully, should help the company progress as Qualcomm is also slated for dual-core chips and Samsung will be delivering an Orion chip.
Whatever "in the near future" means is unclear, but given the progression of single-core to dual-core, it would make sense for NVIDIA to look towards quad-core for the future.
The statement was found in a white paper that the company had published to highlight the benefit of a dual-core solution. In the white paper, NVIDIA had refuted the misconception that dual-core chips utilized more power. Instead, the company had set the record by saying that dual-core chips are more efficient, release less heat, and consume much less power.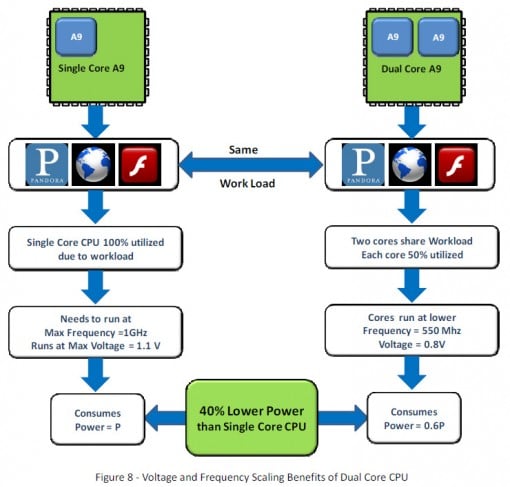 A quad-core Tegra solution in the future would increase the chip's operating efficiency further, much like on desktops.
Tegra 2 is based on the ARM Cortex A9 reference design, which is also used by companies such as Qualcomm, Texas Instruments, and Samsung–those companies would likely make some minor modifications to the ARM design to customize their system-on-a-chip (SoC) solution. SoC chips integrate the processor and other functions, such as a GPU, on a single chip design. NVIDIA will likely leverage its expertise in the GPU space on the Tegra 2 SoC.
Via: Android and Me

As an Amazon Associate I earn from qualifying purchases.