NVIDIA Shield Tablet Deal Offers Up Big Savings
Those looking to buy a new Android tablet here in 2015 have plenty of choices, and a few at the top of the list are likely Samsung's popular Galaxy Tab Pro or Tab S, the Nexus 9, as well as the NVIDIA Shield Tablet. If you're in the market for an Android tablet, a new NVIDIA Shield Tablet deal has surfaced worth checking out.
Last summer NVIDIA announced its first large tablet offering stunning specs aimed at taking on the Samsung Galaxy Tab, iPad, and the incoming Nexus 9, and that tablet is now available with a decent discount for those interested.
Read: Best Android Tablets [February, 2015]
With a large 8-inch 1920 x 1200 Full HD display and the latest version of Android, the SHIELD Tablet has been popular amongst Android users, and if you've been debating whether or not to snag one, a new deal has surfaced offering $30 in savings. Below are all the details for those interested.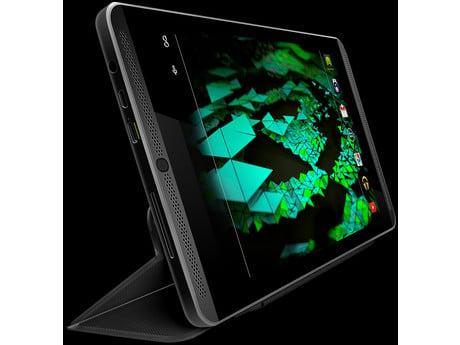 Over the past few years the popular PC graphics manufacturer NVIDIA has been getting more involved with mobile, and their powerful quad-core processors are making their way into more and more devices. From the original NVIDIA SHIELD portable, the original Nexus 9, and even the brand new 64-bit Android 5.0 Lollipop powered Nexus 9 by Google.
In July of 2014 NVIDIA announced the new SHIELD Tablet with a bigger 8-inch full HD display, a quad-core NVIDIA Tegra K1 processor with 2GB of RAM, a stylus, front facing speakers, and it packs enough power to play some popular PC games like Valve's Portal, Half-Life and more.
Today Amazon has a SHIELD Tablet deal where users get the impressive $299 tablet for regular price, but will then receive a $30 Amazon gift card to use towards accessories, or anything of their choice. This was originally spotted just on Amazon, but Android Police has confirmed at least 10 other retailers are offering a similar $30 gift card deal on the device.
The deal above will get you the 32GB Android tablet for the impressively low price of only $299, and you'll receive a $30 gift card. The same deal is available from Best Buy, Fry's, Gamestop, Target, Newegg, NVIDIA themselves and many other retailers that offer the tablet.
It's also worth nothing this deal still includes the three free games that come with the 32GB NVIDIA SHIELD Tablet. Those being the popular PC games Half-Life 2: Episode 1, Half-Life 2 and Portal ported to Android, running exclusively on NVIDIA devices. Here's the full specs of NVIDIA's tablet.
NVIDIA SHIELD Tablet Specs
8-inch 1920 x 1200 Full HD Display
2.2 GHz Tegra K1 quad-core processor and 2GB of RAM
32GB internal storage with a micro-SD slot
Android 5.0 Lollipop
5 megapixel rear and 5 megapixel front cameras
Front facing speakers
Stylus
HDMI-Out to stream games to the bigscreen
more
NVIDIA's SHIELD Tablet has specs similar to Google's new Nexus 9, a similarly sized display, runs the latest version of Android, and comes in at $100 less for the 32GB model. Making this one excellent Nexus 9 alternative before the $30 gift card promotion that was revealed today.
There is also a dedicated NVIDIA SHIELD Game controller that is conveniently $30, making it the perfect add-on accessory for those looking to game on their new Android tablet. There is also a 4G LTE model available that works with AT&T or T-Mobile for those interested. We're not sure how long this deal will last so grab the SHIELD Tablet now and get a $30 gift card from multiple participating outlets.

As an Amazon Associate I earn from qualifying purchases.